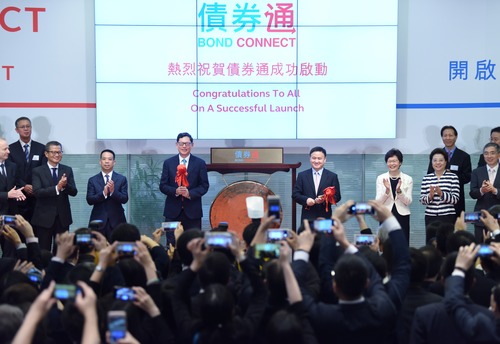 Participants attend a ceremony held by Hong Kong Exchanges and Clearing Limited to launch the "northbound" mainland-Hong Kong bond connect in Hong Kong, south China, July 3, 2017. (Xinhua/Wang Shen)
BEIJING, Oct. 14 (Xinhua) -- After a brief growth slowdown, foreign institutional investors accelerated again their paces to add Renminbi (RMB)-denominated bond holdings in September, confirming the unchanged trend for global investors to increase their holdings of RMB assets and their confidence in Chinese economy.
Statistics with China Central Depository & Clearing Co., Ltd. (CCDC) showed that foreign institutions added in total 88.4 billion yuan of bonds under custody with CCDC in September, up 57.9 billion yuan from the comparable data in August.
Despite the increasing unfavorable factors such as the surging U.S. bonds yields, RMB-denominated assets remained attractive to international investors, whose participation in China bond market is expected to deepen further.
-- Foreign holdings of RMB-denominated bonds up for 34 months in a row
By the end of September, RMB-denominated bonds held by foreign institutional investors under custody with CCDC have risen for 34 consecutive months since December 2018 to hit an all time high at 3.49 trillion yuan.
According to CCDC's monthly report, foreign institutions upsized their holdings of low-risk RMB-denominated bonds such as Chinese government bonds, local government bonds, and policy bank bonds in September.
By the end of last month, foreign institutions held 2.28 trillion yuan of Chinese government bonds, 77.1 billion yuan more than that by the end of August. The foreign institutions also increased their holdings of Chinese policy bank bonds by 15.2 billion yuan and local government bonds by 1.7 billion yuan in September.
In addition, the Bond Connect report shows that foreign institutions maintained active trading of RMB-denominated bonds in September, with their monthly turnover at 471.1 billion yuan, averaging 23.6 billion yuan per day.
-- Foreign holdings adding seen an unchanging trend
As the market environment changed, the monthly increases of foreign institutions' RMB-denominated bond holdings have fluctuated this year. For example, their August holdings increase fell to 30.5 billion yuan as compared with the 75.4 billion yuan in July, which once led to market speculation that foreign institutions would cut their investment.
However, industry experts believed that their September holdings increase and the comparable data in the past 34 months proved that the overall trend of international investors to increase their holdings of RMB-denominated assets has not changed and will not change.
In fact, it is not hard to see international investors' preference for RMB-denominated assets from the recent issuance results of RMB-denominated government bonds and the central bank bills.
Previously, the State Administration of Foreign Exchange (SAFE) once said that there are four main reasons for foreign investors to buy Chinese bonds, the stable running of Chinese economy, the continuous opening-up of China's bond market, the good return on investment (ROI) of RMB assets, and the enhanced safe haven feature of RMB assets.
At present, the above four positive factors still exist. China's economic fundamentals provide basic support for foreign investors to increase their holdings of bonds in China. Experts noted that global investors' enthusiasm to invest in RMB-denominated bonds, stocks and other assets is in nature a sign of their confidence in Chinese economy. China won't change the trend of opening up its bond market. The international acceptance and compatibility will continue to increase.
In terms of the asset itself, China's bond yields still have an edge. As of October 8, the yield spread of 10-year government bonds of China and the United States was 130 basis points (bp). Although it has narrowed from the beginning of this year, it is still at a historically high level.
Investing in bonds in China offers a higher ROI. Moreover, RMB assets began to show hedging properties. In the fluctuations of the global financial market in the past two years, RMB assets showed good stability and the RMB exchange rate continued two-way fluctuation, which further enhanced the attraction of RMB assets to foreign investors.
"The gradual change and adjustment of the external environment will not change the overall development trend that China will open up its bond market to the outside world, nor will it change the long-term investment willingness of foreign investors in bonds in China," said Wang Chunying, deputy head of the SAFE once said.
-- Great potential for foreign holdings increase
In the second quarter of 2021, RMB accounted for 2.61 percent of global foreign exchange reserves, the highest since the IMF reported the data in the fourth quarter of 2016.
Some research institutions predicted that there is still much room of growth for RMB-denominated assets to be foreign exchange reserves thus there is also great potential for foreign institutional investors to add holdings of RMB-denominated bonds.
By the end of August, bonds held by foreign institutions on China interbank bond market accounted for 3.4 percent of the total bonds under custody on the interbank bond market, significantly lower than the comparable data in developed markets and emerging economies such as Brazil.
From October, Chinese government bonds will be included in the FTSE World Government Bond Index (WGBI). By then, all of the international mainstream bond indexes will cover RMB-denominated bonds. China's bond market is expected to see inflows of more than 130 billion U.S. dollars, according to market watchers.
In short, the trend for foreign investors to add RMB-denominated bond holdings is quite clear. Alongside the gradual recovery of the global economy, external liquidity and interest rates will gradually return to normal and foreign investors in turn will increase their holdings of bonds in China in a more stable pace. (Edited by Duan Jing with Xinhua Silk Road, duanjing@xinhua.org)