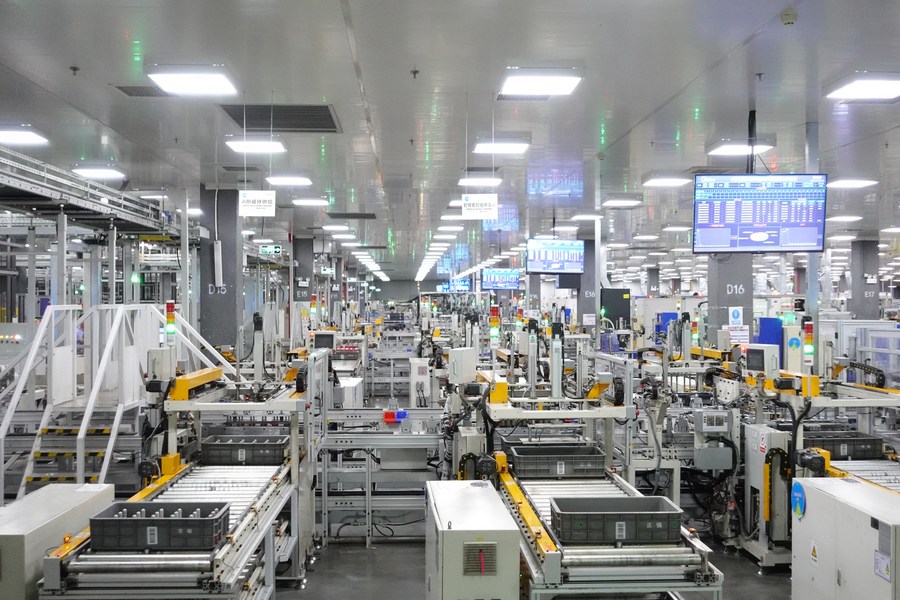 Photo taken on April 1, 2021 shows a workshop of a microwave oven factory of Midea Group, a Chinese home appliance giant, in Foshan City, south China's Guangdong Province. (Xinhua/Li Jiale)
BEIJING, Oct. 11 (Xinhua) -- China plans to expand the clusters of light industries to 330 in total by 2025, reported Shanghai Securities News Monday quoting the China National Light Industry Council.
China will strive to build 400 clusters of light industries with good agglomeration effect, high development quality, and outstanding leading role by 2030, with the proportion of such clusters in the main business revenue of all the light industries increasing by 0.5 percentage point annually on average, noted Zhang Chonghe, president of the China National Light Industry Council.
Currently, there are 283 clusters of light industries in China, involving 35 sectors or 77.8 percent of all the light industries, including leather, ceramics, home appliances, and plastics etc. The operating revenue of these clusters has accounted for 40 percent of all the light industries, and the output of some of these clusters has accounted for more than 50 percent of the national total of similar products.
During the 14th Five-Year Plan period, efforts should be made to further improve the scientific and technological innovation system, stimulate the creativity of talents, and make breakthroughs in key technologies at a faster speed, with the aim to improve the modernization level of the light industry chains and the quality of light industry products and services, foster world-class light industrial clusters, and realize the overall transformation and upgrading of all the light industrial clusters, said He Yaqiong, head of the Department of Industry of Consumer Products of the Ministry of Industry and Information Technology.
(Edited by Gu Shanshan with Xinhua Silk Road, gushanshan.1987@163.com)