BEIJING, Sept. 30 (Xinhua) -- Xinsheng Port, the first port capable of allowing 10,000 deadweight tonne (dwt) vessels to sail by in the upper reaches of the Yangtze River, entered into operation from September 29.
Located in Zhongxian County in Southwest China's Chongqing, the port saw on Wednesday the frist batch of goods, around 120 heavy-duty trucks from Sichuan Province, Gansu Province and Shaanxi Province, taking roll-on/roll-off ships at its No.1 berth and heading for Yichang City in Hubei Province, central China.
-- River-sea multi-model joint transport enabling shipping center construction
Boasting sound shorelines and land transportation resources, Xinsheng Port is the forefront of sections along the Yangtze River capable of letting 10,000 dwt ships to pass by and the first port of such type approved by Chinese transport regulator in the upper reaches of the Yangtze River, said Jiang Xia, secretary of Zhongxian County party committee on the opening ceremony held Wednesday.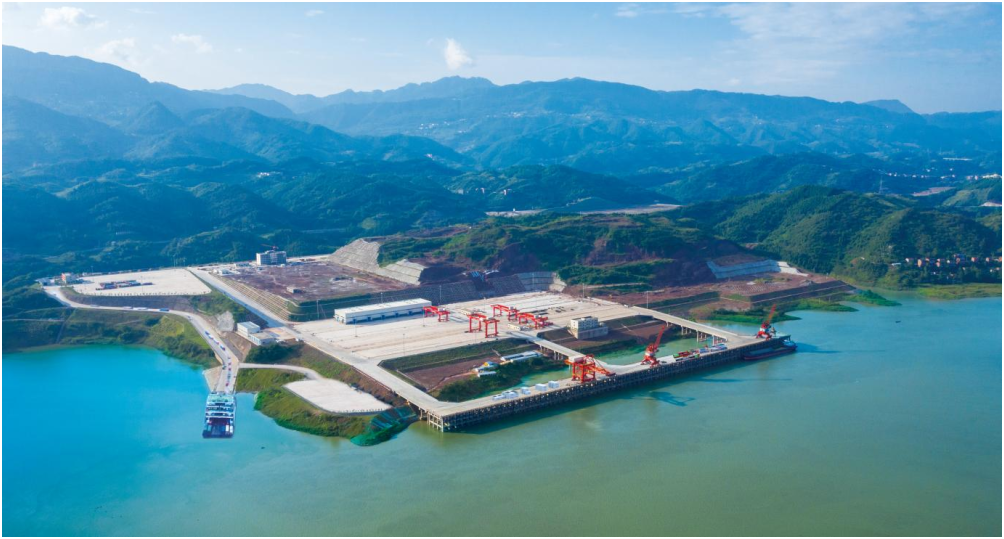 Upon its operation, Xinsheng Port, which lies 213 km away from the downtown areas of Chongqing, helps the Chinese municipality realize direct route transportation to China's coastal ports and ports in neighboring countries or regions.
The opening of Xinsheng Port is good to further optimize influences of Chongqing as a shipping center in the upper reaches of the Yangtze River and better serve construction of the Belt and Road Initiative, the Yangtze River economic belt and the dual-city economic circle in Chengdu of Southwest China's Sichuan Province and Chongqing, said Wang Botao, director of Chongqing port and maritime affairs center.
-- River port economy facilitated by integrated development mode
Opening of the Xinsheng Port made the port dream of over one million people in Zhongxian County come true, introduced Xiang Lihong, head of the transportation bureau of Zhongxian County.
With planned total investment of five billion yuan, the port areas are built with the wharf in the front, warehouses in the middle and industrial parks at the back. At the port, 14 berths of 50,00 tonnes are planned to be built, with annual designed bulk-cargo throughput capacity at 10 million tonnes, designed container throughput at 600,000 TEUs and designed throughput of automobiles per year at 100,000 ones.
Its first phase involved investment of around 2.726 billion yuan. By far, the first batch of five berths have all received the completion acceptance.
A logistics industrial park is also planned to be built, with total planned areas at 16.7 sq.km. In the industrial park, modern storage, special line logistics market, packaging and processing, green construction materials, cold chain logistics, automobile and motorcycles, environmental protection, new materials, textile and clothes, petrochemical distribution and processing industries will be developed to build itself into a regional logistics hub in the Three Gorges reservoir area.
On Wednesday, nearly 30 enterprises have signed agreements with the port construction company, involving a total investment of 4.05 billion yuan.
By 2030, Xinsheng Port is intended to complete construction, which may help realize commerce, trade and logistics output of about 80 billion yuan.
-- Multidimentional transportation system to lower logistic costs
Xinsheng Port has necessary conditions to build rail, highway and waterway joint transportation, said Xiang Lihong, adding that such a multi-model joint transportation system can thoroughly exploit the advantages of multiple transportation means and achieve the optimal comprehensive transportation efficiency.
If cargos from the middle and lower reaches of the Yangtze River are uploaded and downloaded at Xinsheng Port and linked to the Sino-Europe cargo trains between Chongqing and Europe by Guang'an-Zhongxian County-Qianjiang railway and branch lines of Lanzhou-Chongqing railway, shipping lines in the Three Gorges backwater fluctuation area can be avoided, which can largely improve the competitiveness of ports in Chongqing and lower logistics costs.
In future, Xinsheng Port vows to speed up construction of railway and highway protects to widen its links to the channels of Sino-Europe cargo trains in west China, form eastward channels to the sea via the Yangtze River, and integrate into the national railway networks to better connect with east Sichuan Province, Shaanxi Province, Gansu Province, Ningxia Hui Autonomous Region and Alxa League in Inner Mongolia Autonomous Region. (Edited by Duan Jing with Xinhua Silk Road, duanjing@xinhua.org)