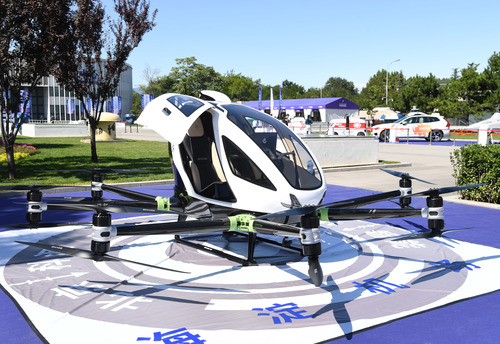 Photo taken on Sept. 17, 2020 shows a passenger-grade autonomous aerial vehicle exhibited during the 2020 Zhongguancun Forum(ZGC Forum) in Beijing, capital of China. (Xinhua/Ren Chao)
BEIJING, Sept. 29 (Xinhua) -- More than 20 Chinese provinces have mentioned future industries in their developing plans, with focus on quantum information, artificial intelligence (AI) and other relevant industries, according to the Forum of Future Industry Innovation & Development, 2021 Zhongguancun Forum (ZGC Forum) held recently.
Relevant departments in China are speeding up the integration of basic research, technological innovation and industrialization by cultivating demonstrations to create a development highland for future industries.
Among which, capital city of Beijing and the southern Chinese city of Shenzhen are stepping up efforts to build open innovation platforms, increasing investment in basic research and its application, and organizing and implementing key technology research projects to create a favorable environment for the development of future industries.
-- Planning for future industries aross China geared up
The future industries, formed on the basis of innovations in major cutting-edge technologies, are forward-looking industries that face the future and determine industrial competitiveness and regional competitiveness, and leading industries that support the future industry development, according to Shao Xinyu, vice minister of the Ministry of Science and Technology, adding that the future industries are in the early stage of explosive growth and have great potential for future development, which will play a driving and leading role in the economic and social development.
China's 14th Five-Year (2021-2025) Plan provides a blueprint for the development of future industries and calls for making forward-looking plans for future industries, and organizing and implementing incubation and acceleration plans for future industries in cutting-edge technologies and industrial transformation fields such as brain-like intelligence, quantum information, genetic technology, future networks, deep-sea and aerospace development, hydrogen energy and energy storage.
Shao Xinyu called on China to step up policy guidance and support, accelerate the cultivation and development of future industries, promote the optimization and upgrading of the country's industrial structure, build a modern economic system, and provide new drivers to support high-quality development.
Shao added that future industries are highly forward-looking and uncertain, so it is necessary to improve the innovation ecology support. The areas with sound conditions should target the development direction of future industries, create innovation ecology in line with the development law of future industries, and explore inclusive systems.
At the local level, Beijing is speeding up efforts to build itself into a global sci-tech innovation hub, increasing the supply of technology and knowledge sources for future industries, and making deployment for key areas such as AI and biotechnology, to create a pleasant environment for the development of future industries.
At the same time, Shenzhen will continue to increase the investment in basic research and its application, and carry out research on information science, material science and other basic science to establish a first-class open-source platform and Research and Development (R&D) platform according to the characteristics of future industries.
Shenzhen will also establish innovation consortia through leading enterprises, give full play to the resource advantages of scientific and technological forces, support the undertaking of major scientific and technological tasks from the province and the ministry, and organize and implement key technology research projects.
--Key support to frontier sectors
In recent years, China has paid great attention to the layout of frontier technologies such as AI, quantum information, nanotechnology (NT) and future networks. More than 20 Chinese provinces have mentioned future industries in their development plans, with focus on quantum information, AI, semiconductors, etc., said Professor Pan Jiaofeng, President of Institutes of Science and Development, Chinese Academy of Sciences(ISDCAS).
Taking nanotechnology for example, it is a national strategic industrial technology that is supportive and cutting-edge, concerning atomic manufacturing, smart healthcare, new energy, nano-catalysis, and bio-safety.
It is noted that China has been at the leading level in the world in nanotechnology application and research. With the most SCI papers and patents in the world, China is capable of making breakthroughs in the area."We are planning to build an industrial cluster for nanotechnology, including industrial parks for nano manufacturing and smart technology, nano medicine and health technology, and nano materials," revealed by Zhao Yuliang, Academician of Chinese Academy of Sciences (CAS) and Director of the National Center for Nano science and Technology.
In terms of promoting AI and industry integration, China has increased efforts in the transformation and application of intelligent vision, auxiliary medical care and other fields, providing strong support for high-quality economic development. For example, data shows that Beijing's high-tech zone Zhongguancun realized an output value of 186 billion yuan in 2020 in the AI-related industry, up 9.8 percent year on year, more than double the output value in 2016, and its compound annual growth rate reached 19.4 percent during the 13th Five-Year Plan period.
"Next, we will target the goals of the second phase of developing AI, advance the integration of AI with real economy, and create new AI application scenarios in manufacturing, transportation, medical care and other fields to meet the needs of improving the real economy and people's livelihood," said Zhang Xu, Deputy Director-General of the Department of Strategy and Planning, the Ministry of Science and Technology.
To improve the innovation ability in AI, China will vigorously develop chips, operating systems and other technologies, make a forward-looking deployment for crossover study on the basic theory of AI and cutting-edge technologies, push AI to empower scientific discovery and promote scientific development such as brain science, which will, to speed up the breakthroughs in AI technology theory, added Zhang Xu.
--Accelerated improvement of supporting policies
According to industry experts, although the development of future industries is highly forward-looking and pioneering, it is also highly uncertain. China needs to further improve the supporting policies while making the deployment for the development of future industries.
China needs to speed up the establishment of modern systems and mechanisms, targeted policies and measures as well as a science and technology financial system to adapt to the development of future industries, according to Jia Jingdun, Director of the Torch High Technology Industry Development Center, Ministry of Science and Technology.
Jia Jingdun added that China should also give priority to strengthening the transformation and industrialization of scientific and technological achievements, especially with the incubation and growth of scientific and technological enterprises as an important focus, to lay a solid foundation for the development of future industries.
Meanwhile, policy and institutional innovation is also particularly important, Jia Jingdun added that China should improve and optimize its existing policies and institutions to better accommodate new products, new technologies, new enterprises and new industries.
To build a solid cultivation system for future industries, China should make a reasonable layout of relevant factors including talents needed for the development of future industries and intellectual property protection, and expand the application scenarios for typical new technologies such as new-generation information technology and intelligent manufacturing technology, so as to develop new business forms and models, said Pan Jiaofeng.
To develop future industries, China also needs to increase financial support and give full play to the special funds at all levels, according to Fang Lin, deputy director of Science, Technology and Innovation Commission of Shenzhen Municipality.
Taking the development of future networks for example, Fang Lin said that it is necessary to provide funds for its frontier research, core technology research and application demonstration, and make full use of various government guidance funds to attract social funds and form a financial support system covering the whole industrial chain.
Both future industries and strategic emerging industries should be developed based on a global cooperation system, which is an important feature of future industries, according to Wang Jiwu, Chairman of Tus-Holdings Co., Ltd., adding that considering the uncertainty of future industries, it is necessary to establish a liability exemption mechanism for decision-makers.
(Edited by Jiang Feifan with Xinhua Silk Road, 346129473@qq.com)