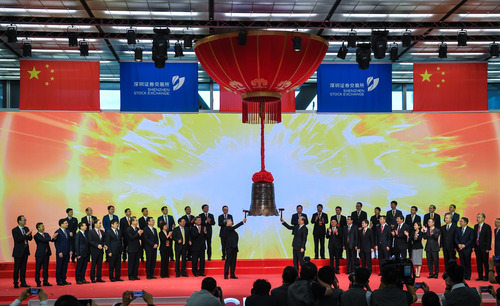 Photo taken on Aug. 24, 2020 shows the bell-ringing ceremony during the listing ceremony of the first batch of registration-based initial public offerings (IPOs) of enterprises debuted on the ChiNext board at Shenzhen Stock Exchange in Shenzhen, south China's Guangdong Province, Aug. 24, 2020.
BEIJING, Sept. 23 (Xinhua) -- China Securities Regulatory Commission (CSRC), the country's securities watchdog, amended its special rules on the initial public offering (IPO) and related underwriting on ChiNext market to further promote market-oriented IPO pricing, reported Xinhua-run Xinhua Finance recently.
The revised special rules, effective from September 18, differ from the past version in the eighth article, which requires ChiNext market's IPO issuers and lead underwriters that price their IPO issue prices via book building to release, before their online subscription, special investment risk announcements to elaborate the reasonability of their IPO pricing and remind investors of potential risks under each of the following circumstances.
For example, ChiNext market IPO issuers and lead underwriters will have to issue the above-mentioned special risk announcements when their issue prices reflect price to earnings ratios (P/E ratio) higher than the average secondary market P/E ratio for comparable listed companies in the same industry.
They are still required to do so if their issue prices surpass the medians and weighted averages of offline investor quotations or quotations by publicly-offered funds, social security funds, pension funds, corporate pension funds and insurance funds after deducting the highest quotations.
If the ChiNext market IPO issuer's offering prices exceed the comparable prices in overseas markets or they do not profit, they shall also issue such special risk announcements.
CSRC said it made the amendment to the special rules after some offline investors focused more on strategies than on studies and tried to win biddings with grouped quotations.
Currently, registration-based IPO rules are piloted on ChiNext market and the sci-tech innovation board, better known as STAR Market together with the market-oriented IPO underwriting mechanism, both of which play active roles in maintaining capital market order and protect rights and interests of investors. (Edited by Duan Jing with Xinhua Silk Road, duanjing@xinhua.org)