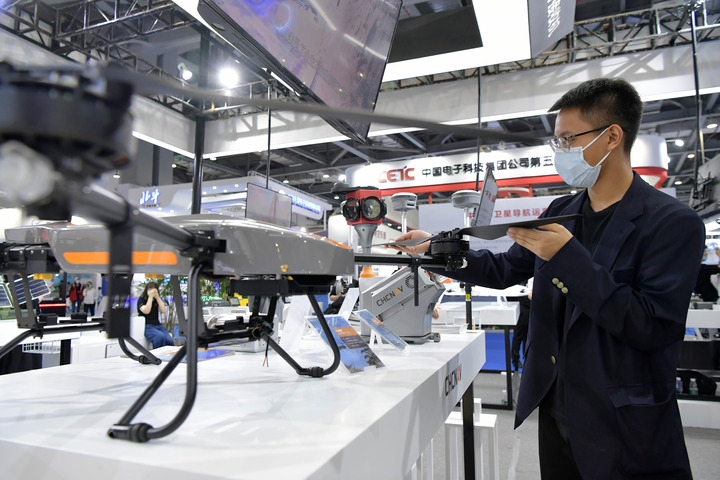 An exhibitor shows a drone for forest fire alert and monitoring during the 12th China Satellite Navigation Expo (CSNE) in Nanchang, capital of east China's JiangxiProvince, May 27, 2021. (Xinhua/Peng Zhaozhi)
BEIJING, Sept. 15 (Xinhua) – East China's Jiangxi Province has recently released the 14th Five-Year Plan (2021-2025) to facilitate high-quality development of manufacturing industry, vowing to develop the province into a manufacturing demonstration zone in China and a paradigm for the transformation and upgrading of traditional Chinese industries, reported Jiangxi Daily Tuesday.
During the period, Jiangxi's industrial growth will be generally improved. The industrial added value above designated size is expected to grow 7 percent annually on average to reach1.3 trillion yuan by 2025, accounting for about one-third of Jiang's total GDP.
By 2025, Jiangxi aims to increase the proportion of added value of strategic industries to 28 percent of the provincial GDP and build 15 industrial clusters each with output value of more than 100 billion yuan.
Meanwhile, the provincial capital city of Nanchang aims to contribute 53 percent to the industrial operating income of the provincial total during the period.
The plan also highlighted Jiangxi's commitment to optimizing the development of key industries. While boosting the traditional industries like non-ferrous metals, petrochemical, and building materials, Jiangxi will also focus on strengthening emerging industries, such as aviation, electronic information, and equipment manufacturing.
Jiangxi Province pledges to form the core growth pole of Nanchang's industry into an advanced manufacturing base with focus on seven major areas, including non-ferrous metals and electronic information.
(Edited by Jiang Feifan with Xinhua Silk Road, 346129473@qq.com)