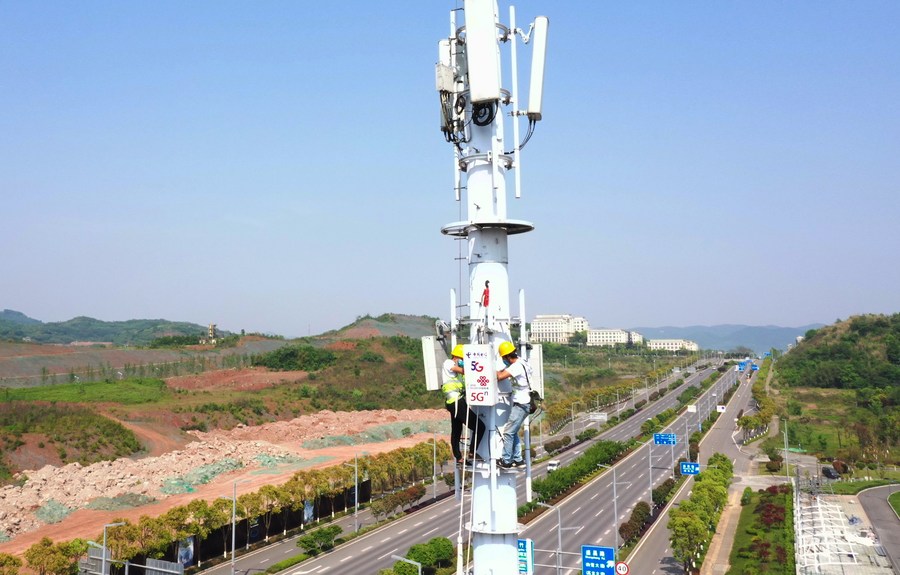 Aerial photo taken on April 15, 2020 shows workers working at the construction site of a 5G base station at Chongqing Hi-tech Zone in Chongqing, southwest China. (Xinhua/Wang Quanchao)
BEIJING, Sept. 13 (Xinhua) -- China takes the lead in the 5G development, and has deployed a total of 1.037 million 5G base stations as of August, accounting for 70 percent of the world's total, said an official with the Ministry of Industry and Information Technology (MIIT) at a press conference held Monday.
The number of China's 5G terminal users has exceeded 400 million, remaining world's largest 5G user group. Besides, China's 5G base stations have covered all prefecture-level cities nationwide.
Moreover, 5G+Industrial Internet has become one of the most active areas of application innovation, covering 22 key industries such as electronic equipment manufacturing, equipment manufacturing and mining.
From January to August this year, domestic 5G mobile phone shipments reached 168 million units, a year-on-year increase of 80 percent. In single August, the proportion of 5G mobile phones has increased to 74 percent.
China will further consolidate the network foundation, expand application scenarios, and optimize industrial ecology, the MIIT said.
(Edited by Bao Nuomin with Xinhua Silk Road, baonuomin@xinhua.org)