BEIJING, Sept. 7 (Xinhua)--China's digital economy has further empowered the recovery and growth of production, investment, consumption, and trade, with the growth rate of multiple core industries such as electronic information manufacturing, software and information technology services exceeding 20 percent in the first half of this year, according to a report released at the China International Digital Economy Expo 2021.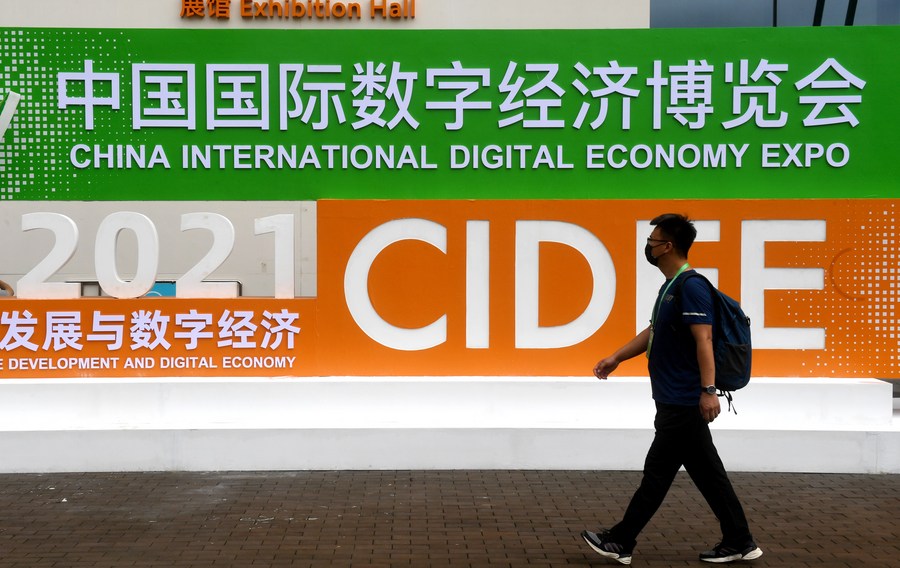 A visitor walks toward the exhibition center of the China International Digital Economy Expo 2021 in Shijiazhuang, north China's Hebei Province, Sept. 6, 2021. (Xinhua/Wang Xiao)
The expo has attracted a total of 468 companies to participate in, bringing together many well-known companies in the field of digital economy at home and abroad, as well as unicorn companies.
A batch of black technology achievements such as Huawei's smart camera and IFLYTEK document smart proofreading system will make their debut during the expo period.
In recent years, China has vigorously advanced the development of its manufacturing and cyber network industry. Focusing on enhancing industrial innovation capabilities, China has promoted the deep integration of digital technology and the real economy.
China ranks among the top in the world in terms of patents in the fields of mobile communications, artificial intelligence, and blockchain, and has the largest market share of smartphones, LCD panels, and consumer drones.
(Edited by Bao Nuomin with Xinhua Silk Road, baonuomin@xinhua.org)