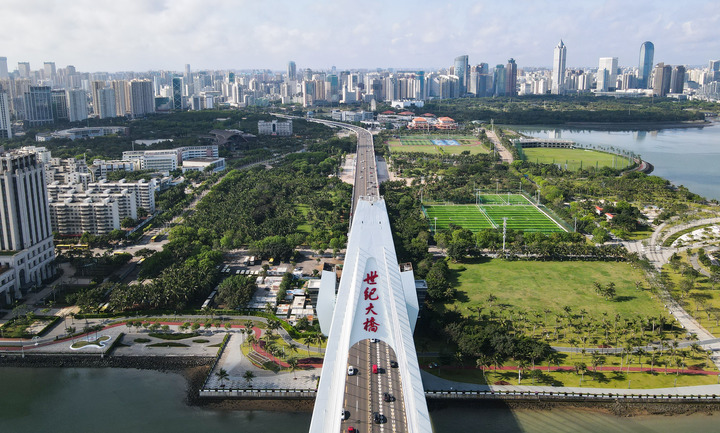 Aerial photo taken on May 3, 2021 shows the Shiji Bridge in Haikou, capital of south China's Hainan Province. (Xinhua/Yang Guanyu)
BEIJING, Aug. 31 (Xinhua) -- The southern Chinese island province of Hainan has maintained good development momentum of cross-border trade in service since the year begins, according to the local commerce department recently.
Hainan's imports and exports of services surged 68.47 percent year on year to 15.653 billion yuan in the first seven months of this year. Among which, service imports stood at 11.103 billion yuan, up 68.96 percent year on year, while exports amounted to 4.550 billion yuan, with a year-on-year increase of 67.30 percent.
During the period, the trade volume of telecommunication, computer and information, transportation, and intellectual property royalties ranked top three, accounting for 76.02 percent to total trade volume in services of Hainan.
It is noted that the World Trade Organization (WTO) defines cross-border trade in services as cross-border delivery, overseas consumption, and movement of natural person.
In the first seven months, Hainan's cross-border delivery of trade in services surged by 95.33 percent year on year to 14.359 billion yuan, among which imports totaled 10.156 billion yuan, up 92.94 percent from a year earlier, while exports stood at 4.203 billion yuan, up 101.37 percent compared with the same period of last year.
Hainan's trading partners in the area reached 127 in total, of which its trade in services with Singapore, Hong Kong, the United States, Japan, and Ireland accounted for 77.66 percent of the total during the period.
Hainan started the implementation of a negative list for cross-border trade in services from August 26, which will effectively improve the opening-up and facilitation level of Hainan Free Trade Port (FTP) and is expected to explore more experiences that can be duplicated and promoted in the country for the opening-up in service trade.
(Edited by Jiang Feifan with Xinhua Silk Road, 346129473@qq.com)