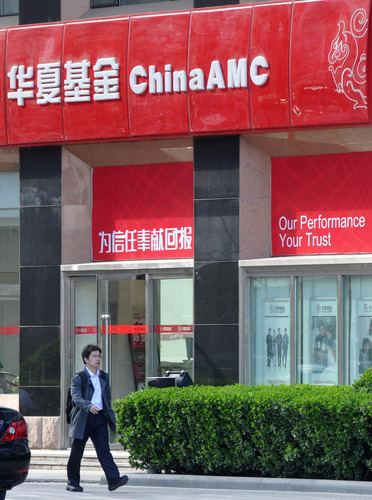 A man walks by a customer service center of China Asset Management Co., Ltd. located in the Financial Street in Xicheng District of Beijing, China on April 6, 2012. (Photo by Gong Lei/Xinhua)
BEIJING, Aug. 30 (Xinhua) -- Publicly-offered funds in China pocketed hefty gains in the first half of this year despite the volatile capital market, with 55 of them earning 19.85 billion yuan of net profits from January to June, reported Securities Daily Monday.
The gross profit figure grew 50 percent year on year and of the 55 publicly-offered funds, 50 of them realized profits and five ones suffered losses in the first six months of this year.
Many fund managers told the newspaper that the rapid profit growth of publicly-offered funds in the first half of this year was driven by their ballooning fund size, which brought up their management fees income and returns as compared with the same period of last year.
In spite of the overall profit growth, large publicly-offered funds presented increasing competitive advantages while performances of small- and medium-sized ones diverged.
By the end of June, there were at least eight large fund firms such as E Fund Management Co., Ltd. that saw assets managed by them renew their historical highs and surpass one trillion yuan.
Industry experts said that China's fund industry is currently undergoing an accelerating round of reform which changes their role from asset management to wealth management and beyond.
Under such circumstances, many large fund firms deepen their cooperation with institutional clients to further propel their all-channel strategy, which also includes business expansion through e-commerce channels and requires capital input and operating teams.
Compared with small- and medium-sized fund firms which face challenges both from the capital market and the entire fund industry, large fund firms obviously boast more advantages, industry experts added. (Edited by Duan Jing with Xinhua Silk Road, duanjing@xinhua.org)