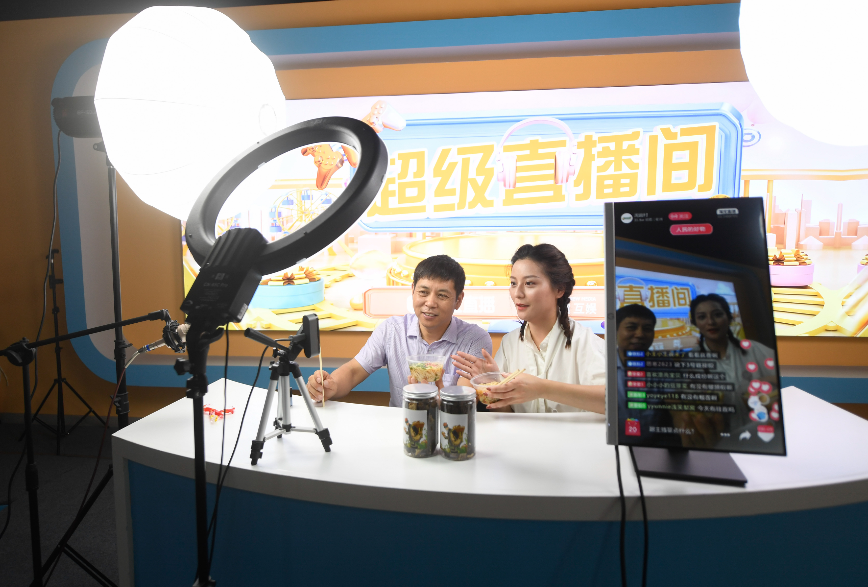 Villager Chen Jiasheng (L) and livestreaming host Shao Jie present handmade noodles to be sold during a live video stream in Wantian Township in Quzhou City, east China's Zhejiang Province, July 18, 2020. (Xinhua/Huang Zongzhi)
BEIJING, Aug. 19 (Xinhua) -- China's Ministry of Commerce (MOC) issued a circular on Wednesday to solicit public opinions on the draft of live-streaming e-commerce industry standards.
The industry standards define the management and service requirements of live-streaming marketing platforms, live-streaming performers, and the e-commerce platforms.
For example, as for the live-streaming marketing platforms, the draft stipulates the qualifications, operating conditions and basic compliance requirements that the platforms should have.
The live-streaming marketing platforms should also be responsible for regulating the entry and exit of merchants and live-streaming performers, reviewing the product and service information, and implementing consumer privacy protection.
It is noted that the standards apply to the e-commerce platforms that sell products or provide services through live-streaming, while the cross-border live-streaming e-commerce platforms are excluded. Products and services in the fields of finance, healthcare, news, culture are also regarded as exceptional cases.
The scale of China's live-streaming e-commerce market stood at 961 billion yuan (about 147.8 billion U.S. dollars) in 2020, a jump of 121.5 percent year on year, and it is expected to amount to about 1.2 trillion yuan in 2021, according to iiMedia Research, a research institute focusing on the domestic Internet industry. (Edited by Hu Pingchao, Wang Siyi, hupingchao@xinhua.org)