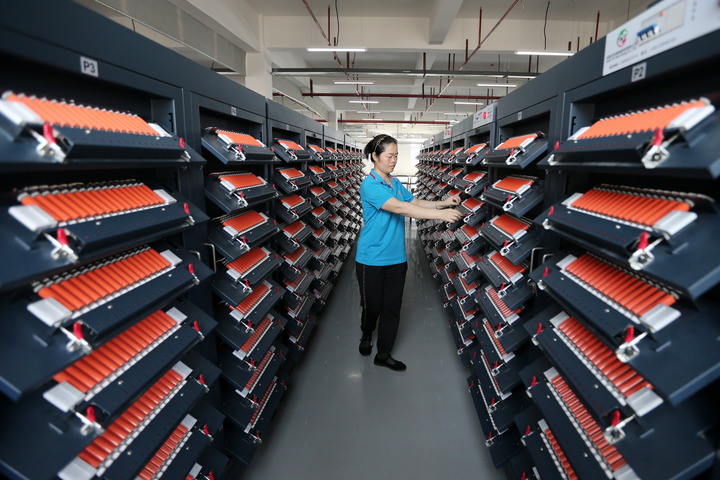 A worker checks lithium battery products at a factory in Huaibei, central China's Anhui Province, Aug. 7, 2021. (Xinhua/Wan Shanchao)
BEIJING, Aug. 17 (Xinhua) -- Jiangsu Azure Corporation (002245.SZ), announced on late Monday that its wholly-owned subsidiary Tenpower has recently signed a supply contract with the German Bosch Group (Bosch) to supply the latter with 87 million ternary cylindrical lithium batteries in 2022.
The total value of the contract is about 95.85 million U.S. dollars according to the current price of the above lithium batteries.
The supply volume accounts for about 21 percent of Tenpower's current lithium battery production capacity and 12 percent of its expected production capacity next year, according to the Shenzhen-listed company's filing to the stock exchange.
Jiangsu Azure said that the supply contract will help consolidate its market position in the lithium battery industry.
Jiangsu Azure Corporation is a China-based company that mainly provides technology products such as lithium batteries and light emitting diode (LED) chips.
Tenpower sold 51.03 million yuan worth of lithium batteries to Bosch in 2020, accounting for 3.53 percent of the company's lithium battery business revenue in 2020. In the first half of 2021, the company sold 95 million yuan worth of lithium batteries to the German company.
Founded in 1886 and headquartered in Stuttgart, southern Germany, Bosch is a Fortune 500 company and a world leader in the field of electric tools. (Edited by Hu Pingchao, Wang Siyi, hupingchao@xinhua.org)