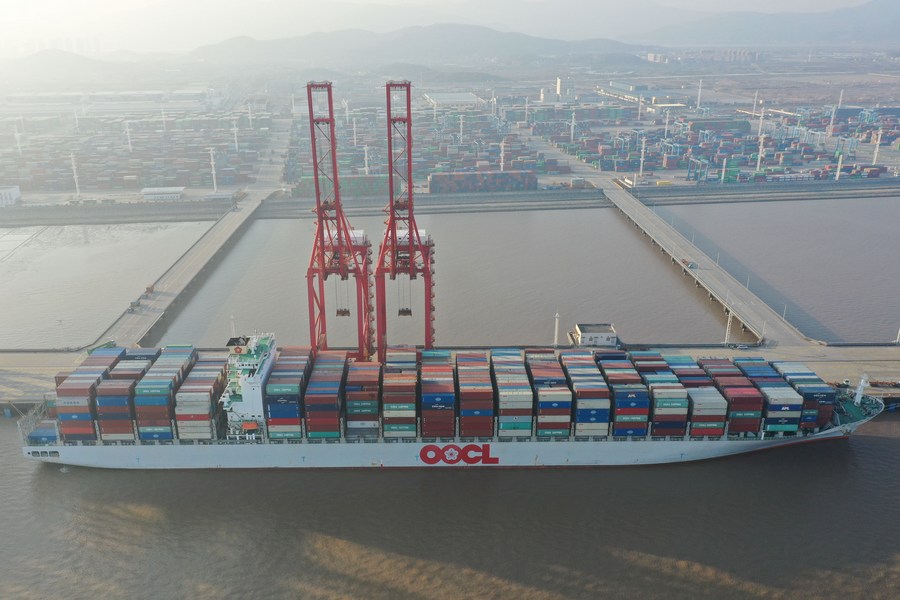 Aerial photo taken on Feb. 19, 2021 shows a cargo ship docking at Meidong Dock of the Ningbo-Zhoushan port in Ningbo, east China's Zhejiang Province. (Xinhua/Huang Zongzhi)
BEIJING, Aug. 12 (Xinhua) -- China is mulling a new round of policies to further the support for small- and medium-sized enterprises (SMEs), and driven by the policies, bank loans, capital markets and many other funds are expected to move faster into these enterprises to help them ease capital pressure.
-- More policies on the way
At a recent meeting of the Political Bureau of the Central Committee of the Communist Party of China (CPC), it was proposed that a reasonable and abundant liquidity shall be maintained while adopting a prudent monetary policy, so as to support the continuous recovery of SMEs and industries facing difficulties.
Specific deployments have already begun.
At its work meeting for the second half of 2021, the People's Bank of China (PBOC) required financial institutions to add support for key fields and weak links, involving small- and micro-sized enterprises (SMEs), agriculture, rural areas and farmers, manufacturing, etc..
The China Banking and Insurance Regulatory Commission(CBIRC) also expressed to continue to improve financial services for SMEs at its work meeting for the second half.
The Ministry of Finance of China has announced to solve related problems existing in the implementation of specific policies based on the needs of enterprises facing difficulties in development, so as to stimulate the vitality of market entities and promote stable and high-quality economic growth.
At the local level, many regions have revealed new plans on supporting SMEs.
Chinese capital city Beijing on August 4 unveiled a three-year (2021-2023) action plan to help private SMEs to expand funds and reduce costs, improve assessment on commercial banks for their services to SMEs, and urge commercial banks to increase inclusive loans for SMEs, with that of the Beijing branches of the five large state-owned banks of China, namely the Industrial and Commercial Bank of China, the Agricultural Bank of China, the Bank of China, the China Construction Bank, and the Bank of Communications, each growing by no less than 30 percent in 2021.
The Financial Department of Shaanxi Province in northwest China on August 6 allocated 20 million yuan in advance to support 12 financial institutions, including the Shaanxi Branch of the China Construction Bank, to lower lending rates for SMEs.
Southwest China's Yunnan Province recently proposed that by means of funding, purchase services, incentives, and so on, special funds for the development of SMEs should be used to help these firms to transform and upgrade business, innovate technology, and expand market, and to support the building of public services and financing services systems for SMEs.
-- Funds from multi-channels expected
With a series of policy arrangements, multiple funds have accelerated to flow in to help SMEs overcome financial pressure and difficulties.
Vice Finance Minister Xu Hongcai said recently that since the beginning of this year, the financial departments have further optimized and implemented the tax and fee reduction policies to help market entities regain their vitality.
By continuing to implement systemic tax reduction, categorizing and adjusting periodic tax and fee reduction, introducing new structural tax reduction and continuing fee reduction, financial departments are expected to reduce the burden of market entities by more than 700 billion yuan throughout the year.
At the same time, in order to support the development of the real economy and reduce overall financing costs, PBOC cut the reserve requirement ratio (RRR) by 0.5 percentage point for eligible financial institutions from July 15 (excluding those who have already implemented the 5-percent RRR).
According to a source from PBOC, this RRR cut releases about one trillion yuan in long-term funds, and it aims to increase the long-term and stable funding sources for financial institutions to support the real economy, and guide financial institutions to actively use the funding to increase the support for SMEs.
As a result of multiple supportive policies, the financing environment for market entities continued to improve in the first half (H1) of this year. According to data from PBOC, at the end of June, the balance of inclusive loans for SMEs registered 17.7 trillion yuan, with a year-on-year increase of 31 percent, and these loans supported 38.3 million SMEs, with a year-on-year increase of 29.2 percent.
Financial institutions are also taking frequent moves to help SMEs. Recently, the Industrial and Commercial Bank of China, the Bank of China, and China CITIC Bank have reached cooperation with the Central Government Procurement Center to help SMEs solve financing problems.
They will utilize the complementary advantages of Finance Plus Government Affairs and actively provide financing convenience for SMEs based on government procurement data. Under this cooperation, loans are expected to issue by the end of the year.
Capital market will also play its role further. Recently, the board transfer system for the National Equities Exchange and Quotations (NEEQ, known as the New Third Board) selected layer has entered the implementation stage.
The NEEQ is the main battleground for the capital market to serve SMEs, and qualified companies listed on NEEQ selected layer can transfer to the Science and Technology Innovation Board (STAR Market) and China's second board market (ChiNext Market) for listing.
Such system provides SMEs with a new path of "financing, trading, and listing at the same time", which is helpful for the capital market to better serve SMEs, according to insiders.
--Structural policy tool to be enhanced
Next, regulators may exert more structural policy tools to support SMEs, including strengthening tax and fee reduction targeting such firms, appropriately expanding re-lending with high inclusiveness, low interest rates and targeted investment fields, said Wang Qing, chief macro analyst with Golden Credit Rating International Co., Ltd., a major credit rating agency in China.
Meanwhile, a prudent and neutral monetary policy would be adhered to, noted Wang.
Industry experts believe that to further support SMEs, efforts would also be made to speed up the innovation of products and services, and keep expanding the means and channels for financing.
(Edited by Gu Shanshan, Wang Yuhang with Xinhua Silk Road, gushanshan.1987@163.com)