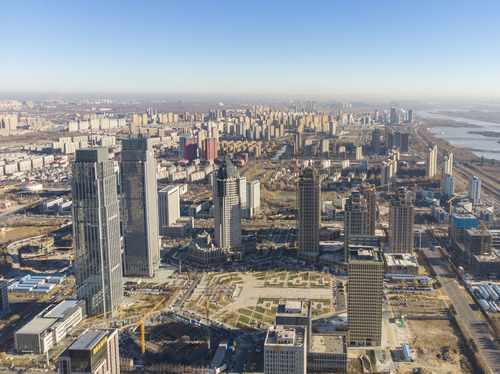 Aerial photo taken on Nov. 13, 2020 shows a view of the sub-area of Heilongjiang pilot free trade zone (FTZ) in Harbin, northeast China's Heilongjiang Province. (Xinhua/Zhang Tao)
BEIJING, July 30 (Xinhua) -- Foreign investment into China's 21 pilot free trade zones (FTZs), in actual use, amounted to 100.88 billion yuan in the first half of this year, accounting for 17 percent of the country's total, according to the Ministry of Commerce (MOC).
According to the MOC, the foreign investment in actual use in the Chinese mainland surged 28.7 percent year on year in the first half of the year to 607.84 billion yuan.
During the same period, a total of 23,000 foreign-invested enterprises were set up in China, hiking 47.9 percent, bringing the total number of foreign-invested firms to over 1.06 million.
China's foreign capital utilized by the manufacturing sector picked up 9.9 percent, while the foreign investment into the service industry soared 33.4 percent.
Meanwhile, the total foreign investment in actual use in south China's Hainan Free Trade Port (FTP) increased by 5.7 times over the same period of last year.
It is noted that China set up its first pilot FTZ in Shanghai in 2013. After five rounds of expansion, China now has 21 pilot FTZs, representing the new highland for the country's reform and opening-up.
(Edited by Jiang Feifan with Xinhua Silk Road, 346129473@qq.com)