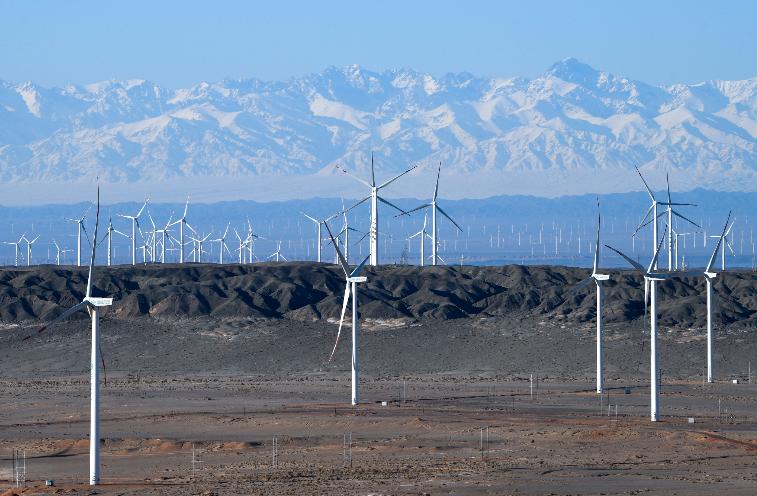 Photo taken on Oct. 23, 2019 shows the Nanfeng wind power field in Hami, northwest China's Xinjiang Uygur Autonomous Region. (Xinhua/Zhao Ge)
BEIJING, July 30 (Xinhua) -- China's wind power industry achieved outstanding performances in the first half of the year, with the amount of wind power generation reaching 344.18 billion kWh, up 44.6 percent year on year, the Shanghai Securities News reported on Friday.
The newly-added installed capacity of the wind power connected to the country's grid network was 10.84 million kWh in the first six months, a year-on-year increase of 72 percent. In breakdown, that of the onshore and offshore wind power amounted to about 8.69 million kilowatts and 2.15 million kilowatts, respectively.
The robust development of the wind power industry is attributed to the country's efforts to promote green development.
Earlier, the country announced to peak carbon dioxide emissions by 2030 and achieve carbon neutrality by 2060.
Efforts shall be made to comprehensively promote the large-scale development of wind power and solar power, improve the ability of the grid network to absorb and regulate the high proportion of power generated by renewable energy, and form a new power system with new energy as the mainstay, according to Su Wei, deputy secretary general of the National Development and Reform Commission (NDRC) at a low carbon-themed forum in June.
Data showed that as of the end of June this year, the country's installed renewable energy power generation capacity reached 971 million kWh. To be specific, the wind power installed capacity amounted to 292 million kWh, second only to hydropower installed capacity of 378 million kWh. (Edited by Hu Pingchao with Xinhua Silk Road, hupingchao@xinhua.org)