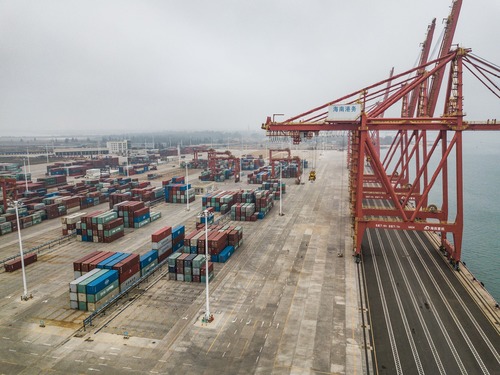 Aerial photo taken on April 8, 2020 shows the Xiaochantan dock in Yangpu, south China's Hainan Province. (Xinhua/Pu Xiaoxu)
BEIJING, July 29 (Xinhua) -- Local authorities in south China's Hainan Free Trade Port (FTP) recently issued a plan to simplify the procedure for ship registration by implementing joint procedures among relevant departments in the Yangpu Economic Development Zone, reported the Xinhua-run Xinhua Finance Thursday.
The joint registration procedure can shorten the time for the ship to apply for licenses in the Yangpu Economic Development Zone by more than half, to improve the operating efficiency of vessels and shipping enterprises.
Attracted by the policy dividends of the Hainan FTP and the Yangpu Economic Development Zone, a total of 62 ships were registered and settled in the Yangpu Economic Development Zone in the first half of the year, involving a total shipping capacity of 1.869 million tonnes, surging 752.6 percent over the same period of last year.
It is noted that Hainan FTP will continue to depend on the service model of joint registration procedures, strive to provide shipping companies with a more convenient and efficient registration process and enhance the comprehensive competitiveness of the Hainan FTP shipping market.
(Edited by Jiang Feifan with Xinhua Silk Road, 346129473@qq.com)