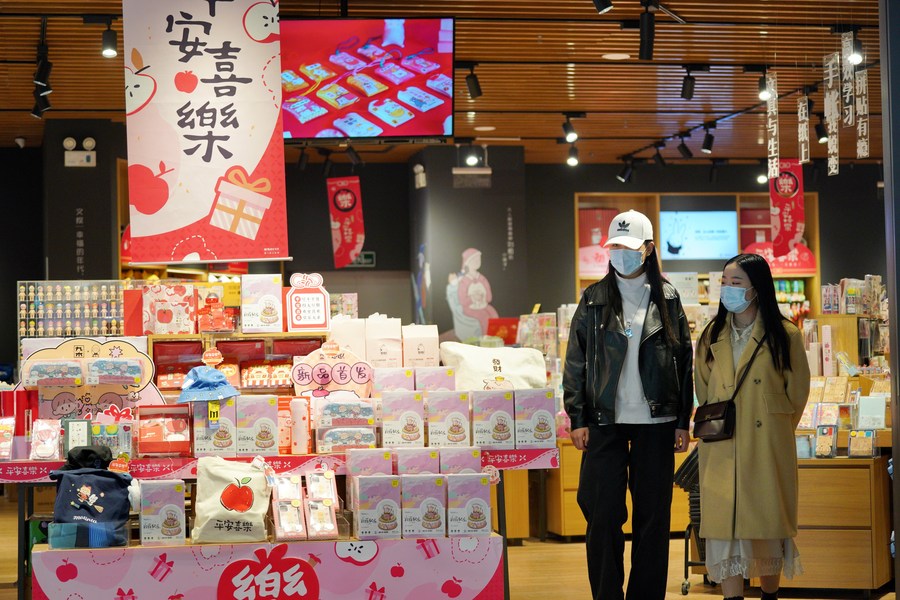 Customers are seen at a shopping mall in Qiaoxi District of Shijiazhuang, north China's Hebei Province, Feb. 5, 2021. (Xinhua/Mu Yu)
BEIJING, July 23 (Xinhua) -- China's consumer market has shown a continuous recovery momentum in the first half (H1) of 2021, and the trend is expected to continue, according to the Ministry of Commerce (MOC) of China.
China's retail sales of consumer goods jumped 23 percent year on year in H1, and contributed to 61.7 percent of the gross domestic product (GDP).
During this period, the retail sales of automobiles rose by 30.4 percent year on year to 2.2 trillion yuan, contributing to 13 percent of the total retail sales of consumer goods. The box office revenue recovered to nearly 90 percent of that in the same period of 2019, while the rail and civil aviation passenger traffic returned to nearly 80 percent.
Prominent problems such as uneven recovery and unstable foundation still exist in the consumer market, noted Zhu Xiaoliang, head with the Department of Market Operation and Consumption Promotion of MOC, at a press conference held Thursday.
With the continuous and steady recovery of the Chinese economy, the more accurate and effective epidemic prevention and control, and the implementation of various policies and measures, the consumer confidence has gradually increased, and the consumer market may remain upbeat, Zhu said.
According to Zhu, in the second half (H2) of 2021, efforts will be made to improve consumption-supportive policies and measures, promote the building of international consumption centers, speed up the improvement of the county commercial system, and encourage traditional commercial enterprises to quicken digital and intelligent transformation, so as to further stimulate market vitality and unleash consumption potential.
(Edited by Gu Shanshan with Xinhua Silk Road, gushanshan.1987@163.com)