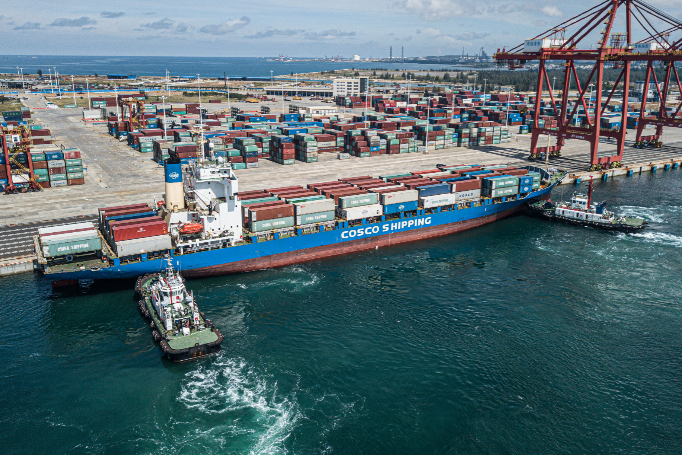 Aerial photo taken on Sept. 23, 2020 shows two tugboats helping a ship to dock in Yangpu, south China's Hainan Province. (Xinhua/Pu Xiaoxu)
BEIJING, July 19 (Xinhua) -- China's southern island province Hainan is quickening the pace to strengthen its position as an international shipping and aviation hub, according to a plan recently released by the local authorities.
Efforts are made to serve development of the New International Land-Sea Trade Corridor, a trade and logistics passage jointly built by western Chinese regions and Southeast Asian countries, and support industries such as tourism, modern service industry and high-tech industry.
According to the plan for the modern logistics industry development in the province in the 14th Five-Year Plan period (2021-2025), by 2025, Hainan will basically establish an international logistics facility system, complete the construction of a digital logistics service system framework, and form a marine logistics and aviation logistics service network system.
The province will, according to the industrial layout of the Hainan Free Trade Port (FTP), focus on building of four major logistics hubs in Haikou, Sanya and Dongfang cities, and Yangpu Economic Development Zone, said the plan. (Edited by Hu Pingchao with Xinhua Silk Road, hupingchao@xinhua.org)