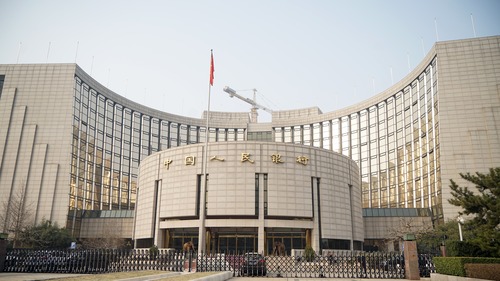 Photo taken on March 13, 2018 shows the headquarters of the People's Bank of China. (Xinhua/Cai Yang)
BEIJING, July 12 (Xinhua) -- China announced on July 9 to slash banks' required reserve ratio (RRR) by 0.5 percent from July 15, taking investors by surprise when they were still betting on debut of a targeted RRR cut in the future.
Shortly after China's State Council executive meeting held on July 7 mentioned considering cut of RRR to support the real economy, the hefty RRR cut is expected to unlock around one trillion yuan of long-term liquidity for China's banking sector.
Exuberant over the news, China's real economy entities are likely to enjoy lower financing costs, but given the partially pre-digested RRR cut expectations and the absence of foreseeable RRR cuts in future, China's stock and bond market may get limited boosts, say analysts.
-- RRR cut seen a big surprise but widely deemed "necessary" for boosting real economy
China has the leeway to cut the RRR at present and it is necessary for such a RRR cut to come, held Wen Bin, chief economist with China Minsheng Banking Corporation Limited, saying that the eased consumer price index (CPI) and producer price index (PPI) pointed to generally controllable inflation in the second half of this year and in turn left space for China to slash the RRR.
In spite of the necessity, however, the timing and depth of this RRR cut both trounced forecasts of market players, who previously believed there might be no RRR cut this year as there were none last year when the COVID-19 epidemic dented the economy and a targeted RRR cut was more likely.
Wen Bin attributed the RRR cut to Chinese central bank's willingness to unlock low-cost and long-term capital and help reduce the debt costs of banks. Using the fund unlocked via the RRR cut to replace the expiry medium-term lending facility (MLF) can shore up the proportion of long-term capital of financial institutions, and encourage and guide them to further cut the financing costs for real economy entities, according to Wen. By the end of June, China's MLF, a tool for Chinese central bank to provide mid-term base money for banks, had mounted up to historically high of 5.4 trillion yuan.
An official with the People's Bank of China (PBOC), China's central bank, said that the RRR cut targeted optimizing the capital structure of banks and improve their capacity to better serve the real economy.
As the official introduced, the RRR cut can save around 13 billion yuan of capital costs for financial institutions and via their business activities, it is conducive to further reducing the comprehensive social financing costs of banks.
-- Effects on capital market to be neutral
Li Lifeng, chief strategist with Huaxi Securities said that the RRR cut's influences over China's A-share market are likely to be neutral as upon its debut, market players will shift their focus to whether the PBOC will further lower the RRR.
However, there is by far almost no RRR cut foreseeable and the prudent monetary policy in China has not changed yet, noted Li, adding that under such circumstances, the RRR cut's effect on improving the risk appetite of A-share market players shall not be exaggerated.
For bond market, the relatively notable decline of bond yields in the two days before July 9 had thoroughly factored in the boosts from expectations for the RRR cut and as the RRR cut has been in place, bond market investors need to pay more attention to changes of market liquidity, said Qu Qing, chief economist with Jianghai Securities.
Based on hopes for PBOC's gradual liquidity easing and the not solid fundamental for economic recovery, however, the future drop of bond yields is still expected to continue, reckoned Qu.
Xu Maili, deputy head of the research institute of Everbright Futures believed that the unexpected depth and early debut of the RRR cut has foretold the shift of focus for China's monetary policy in the short term, which will focus on stabilizing economic growth instead of reining in inflation.
-- Prudent monetary policy unchanged
Despite the RRR cut, China's prudent monetary policy has not changed, reiterated the above-mentioned official with PBOC, saying that the move is a regular operation after China's monetary policy returned to normal.
PBOC will stick to, rather than resorting to a "flood-like" stimulus, a normal monetary policy while keeping it stable and effective as China's stable economic growth maintains its momentum currently, said the official.
Generally, the RRR cut further confirmed that the PBOC will not tighten monetary policy because of the supply side inflation, according to the macro-economic research team with China International Capital Corporation Limited (CICC).
To some extent, however, the RRR cut may still be interpreted as a signal for the coming of prudent but relatively loose monetary policy, according to the CICC research team.
Lian Ping, chief economist with ZhiXin Investment Research Institute held a similar view, saying that the RRR cut pointed to the start of relatively loose monetary policy operations under the prudent monetary policy keynote, but did not mean China's monetary policy will tend to be significantly looser, which should not be over interpreted by market players. (Edited by Duan Jing with Xinhua Silk Road, duanjing@xinhua.org)