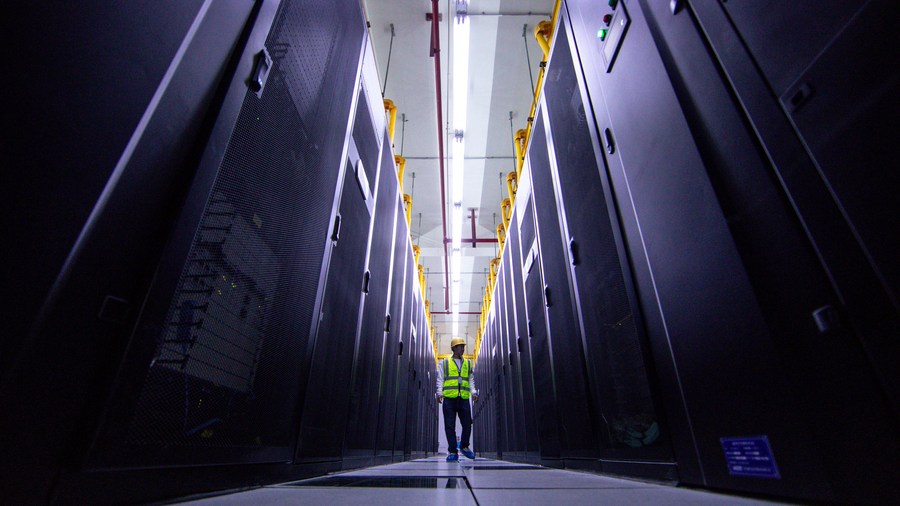 A staff member checks equipment at a data center of China Mobile in southwest China's Guizhou Province, May 24, 2021. (Xinhua/Ou Dongqu)
BEIJING, June 24 (Xinhua) -- China will expedite the construction of a nationwide integrated big data center system and build data center clusters in eight regions including the Beijing-Tianjin-Hebei region, the Yangtze River Delta and the Guangdong-Hong Kong-Macao Greater Bay Area (GBA), promoting the green and high-quality development of data centers.
At the same time, related companies have invested in accelerating the implementation of data center projects. Industry insiders believe that the industrial investment of China's data centers is expected to reach 1.4 trillion yuan in the next three years.
-- New construction projects frequently launched
Since the second quarter of this year, the new data center projects have been launched frequently.
China Southern Power Grid recently announced the investment of around 10 billion yuan in a southern energy data center in Guizhou Province, which, upon completion, will provide digital energy services to the whole society.
A digital industrial park of China Telecom E Cloud has recently settled down in Changsha, Central China's Hunan Province. With an investment of about 6 billion yuan, the first phase of the project includes 16,000 standard IDC cabinets and plans to be put into operation in 2022. It targets a regional data center of China Telecom covering many regions including Hunan, Hubei, Jiangxi, Guangxi and Anhui.
According to data released at the China International Big Data Industry Expo 2021, during the 13th Five-Year Plan period (2016-2020), the number of data centers in China soared from 1.24 million in 2015 to 5 million in 2020. China has become one of the countries with the most active, potential and optimal environment for big data application in the world.
As digital technology continues to mature and big data applications and services continue to deepen, the market's demand for big data infrastructure will continue to increase, believed industry insiders.
According to China Academy of Information and Communications Technology (CAICT), the investment in data centers will reach 300 billion yuan in 2020, and the investment in the data center industry may reach 1.4 trillion yuan in the next three years.
-- Intensive favorable policies launched
China's central and local authorities are actively deploying and increasing policy support for big data center construction.
Four national departments including the National Development and Reform Commission (NDRC) and the Ministry of Industry and Information Technology (MIIT) recently issued an implementation plan for the computing power hub of the national integrated big data center collaborative innovation system, which proposed to deploy the construction of computing power hubs in key regions such as Beijing-Tianjin-Hebei region, the Yangtze River Delta, the GBA, Chengdu and Chongqing, Guizhou, Inner Mongolia, Gansu, and Ningxia so as to develop data center clusters and guide the development of data centers in an intensified, scaled-up and environmental friendly manner.
Many local governments have also seized the momentum and further clarified the targets on building data center clusters.
On June 8, 2021, Shanxi Province released a five-year plan for development of information and communication industry that proposed to build large data center clusters in Taiyuan, Yangquan, Datong and Lvliang, and promote the collaborative development of large data centers and marginal data centers within the province.
Southwest China's Guizhou proposed to concentrate its efforts to build an internationally competitive 100 billion-level big data electronic information industry cluster for the entire industry chain, and focus on cultivating data center upstream and downstream industry clusters.
-- Green and intensified construction strengthened
The intensified, scaled-up and green development of data centers is the general trend.
China will follow the green and intensified principle, strengthen the overall planning and layout of data centers and realize the orderly growth of data centers of all sectors in line with the actual situation such as market demand, energy supply and network conditions.
China will guide the orderly layout and promote the layout of large data centers in areas with abundant renewable energy, climate, and geological conditions, said an official with NDRC, adding that China will accelerate the exploration of energy-saving technologies, energy recovery, and renewable energy utilization in big data centers, promoting green and high-quality development and helping the country achieve peaking carbon emissions and carbon neutrality.
(Edited by Bao Nuomin with Xinhua Silk Road, baonuomin@xinhua.org)