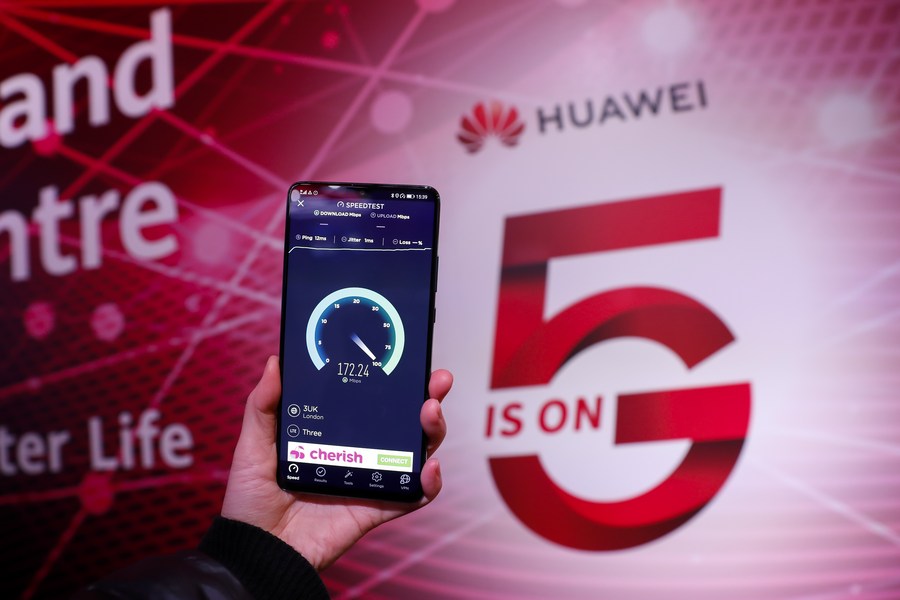 Photo taken on Jan. 28, 2020 shows a Huawei 5G mobile phone testing speed at the Huawei 5G Innovation and Experience Center in London, Britain. (Xinhua/Han Yan)
BEIJING, June 18 (Xinhua) -- The market size of Augumented Reality (AR) technology will reach 300 billion U.S. dollars by 2025, based on the data from Huawei and the third party, said Huawei carrier BG CMO Cai Mengbo at a global summit themed "5G+AR".
During the summit, Huawei released a white paper, covering insights about AR devices, applications and network, calling for joint efforts from the whole industy to make "5G+AR" technology thrive.
Cai said at the summit that the AR technology will be primarily used in industries such as education, social media, shopping, travelling and gaming, facilitating the integration of physical world and digital world.
Cai also introduced AR engine developed by Huawei at the summit, which enabled 3D transformation with simple algorithm.
(Edited by Li Shimeng with Xinhua Silk Road, lishimeng@xinhua.org)