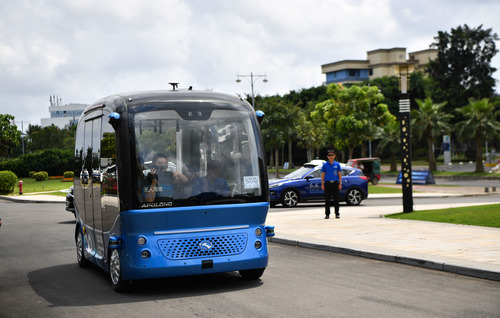 An unmanned bus is pictured at Hainan Boao Lecheng International Medical Tourism Pilot Zone in Boao, south China's Hainan Province, March 27, 2019. (Xinhua/Guo Cheng)
BEIJING, June 15 (Xinhua) -- China's southern island province Hainan registered a total of 77,084 units of new energy vehicles (NEVs) by the end of May this year, ranking the fourth in the country, according to the local authorities recently.
Since Hainan's release and implementation of the clean energy vehicle development plan in 2019, the development of clean energy vehicles in the province has been significantly accelerated, with the total number of new energy vehicles promoted in the year of 2019 and 2020 reaching 12,853 and 31,167 respectively.
It is noted that despite the impact of the COVID-19 epidemic, the NEV market in Hainan Province showed an explosive growth, exceeding the annual promotion target of 10,000 vehicles.
By the end of May this year, a total of 11,319 NEVs had been promoted and put into operation in Hainan, while the province is expected to promote more than 25,000 NEVs by the end of 2021.
In April, Hainan Province introduced measures to stabilize car consumption in 2021, aiming at promote the NEVs consumption as well as lower the cost of using NEVs in the province.
According to the measures, Hainan's local authorities will offer incentives of 6,000 yuan to 10,000 yuan per vehicle based on the price of the NEV.
In addition, Hainan will also promote the application of NEVs in rural areas, and further promote the construction of supporting facilities of NEVs such as charging piles.
(Edited by Jiang Feifan with Xinhua Silk Road, 346129473@qq.com)