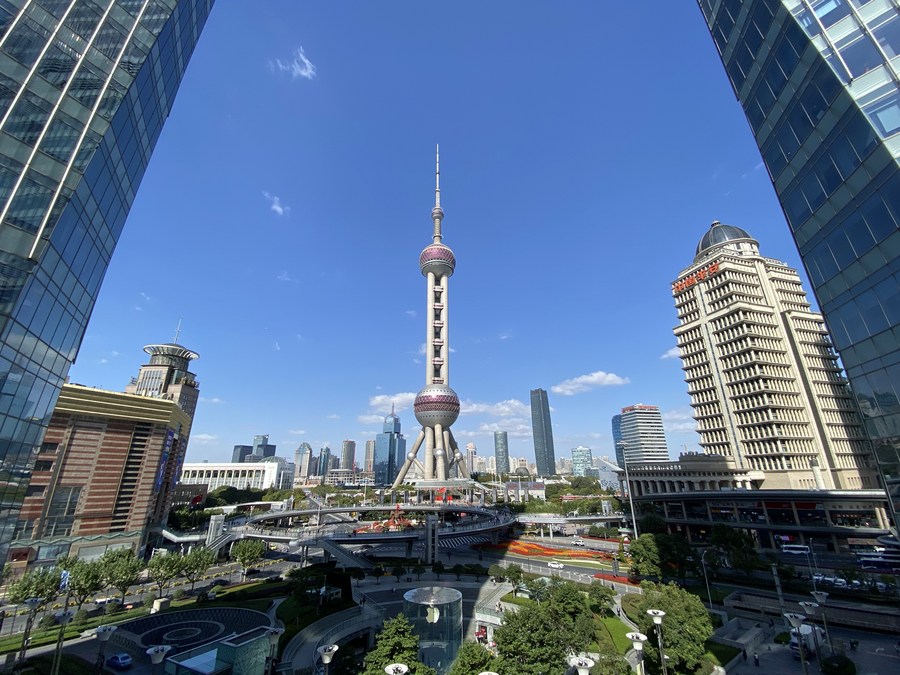 Photo taken on Nov. 3, 2020 shows the view of the Lujiazui area of Pudong, east China's Shanghai.(Xinhua/Ding Ting)
BEIJING, June 1 (Xinhua) -- China kicked off the sales of its first batch of nine public real estate investment trusts (REITs) on Monday, a great leap forward for the country's asset-management industry.
The nine REITs, aiming to raise over 30 billion yuan (about 4.71 billion U.S. dollars) in total, are expected to channel investment into infrastructure projects such as highways, industrial parks, storage and logistics, and sewage treatment, among others.
At the International Finance Forum 2021 Spring Meetings in Beijing, Li Chao, vice chairman of the China Securities Regulatory Commission (CSRC), on Saturday urged the steady advancement of the implementation of piloting public REITs in the infrastructure sector.
Monday's launch came after the CSRC approved the registration of the nine REITs in mid-May.
Earlier in April 2020, China initiated a pilot scheme on infrastructure REITs to deepen supply-side structural reform in the financial sector and enhance the capital market's capabilities in supporting the real economy.
As an important approach to realizing real estate securitization, REITs collect investors' funds and hand them over to professional investment institutions for real estate investment management.
Globally, the REIT market had been established in more than 40 countries and regions by 2019, with the assets under management surpassing 2 trillion U.S. dollars.
Experts said the rollout of infrastructure REITs in China will be conducive to efficiently using China's high-quality infrastructure assets, forestalling local governments' debt risks and boosting economic growth.
It also offers investors a crucial asset type other than stocks and bonds.
"Public REITs will help diversify investors' asset allocation, as their underlying assets are real estate, which has low correlation with financial assets dominated by stocks and bonds," said Zhang Zheng, associate dean of the Guanghua School of Management at Peking University.
The scale of China's public REIT market is expected to reach 5 to 14 trillion yuan, according to conservative estimates, given the country's real estate volume and the experience of overseas REIT markets, experts said.
Looking forward, the CSRC plans to steadily expand the coverage of infrastructure REITs.
Efforts will be made to diversify REIT investors, encouraging financial institutions such as banks, insurance and securities companies to participate, the CSRC said.