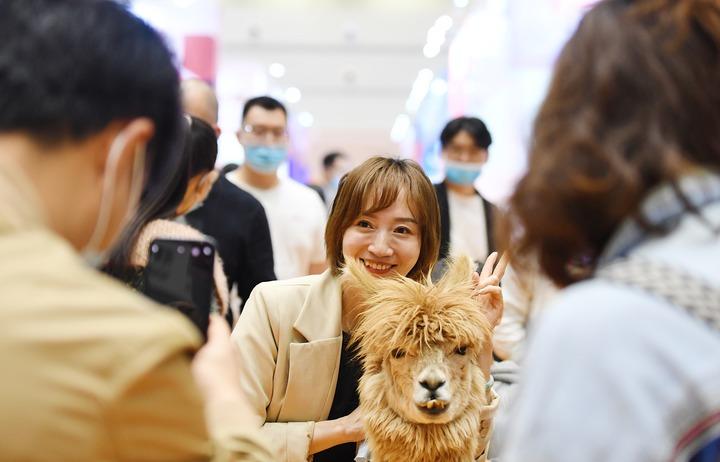 A woman poses with an alpaca during a pet expo held from April 9 to April 11 in Zhengzhou, central China's Henan Province, April 10, 2021. (Xinhua/Zhang Haoran)
BEIJING, May 20 (Xinhua) -- The scale of China's pet industry is expected to reach 445.6 billion yuan by 2023, according to a research report on China's pet consumption trend released by Market research company iResearch on Wednesday.
The industry has entered stable growth with market size closing in 300 billion yuan last year, and is likely to maintain such trend driven by policy, economic, social and technological factors, as well as more potential pet owners and emotional consumption brought by the epidemic, according to the report.
Dogs and cats are the majority of pets in China accounting for 70 percent and 56 percent respectively with pet cats more likely owned in first and second-tier cities and dogs in third-tier cities.
Pet food market shows fierce competition with international brands topping the industry. The share of the top ten brands in JD pet food accounted for 57.8 percent in 2020 with international brands accounting for 42.9 percent.
Increased time spent with pets has driven the overall growth of pet consumption during COVID-19 epidemic, which also drove more customers onto e-commerce platform for "cloud" pet related purchase.
(Edited by Tian Shenyoujia, Niu Huizhe with Xinhua Silk Road, niuhuizhe@xinhua.org)