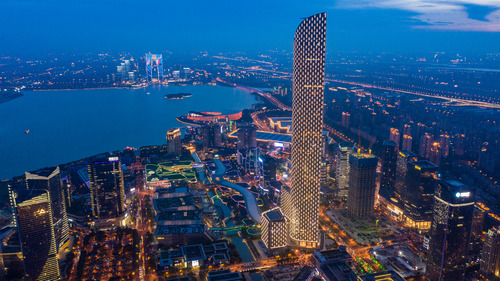 BEIJING, May 18 (Xinhua) -- China Securities Regulatory Commission (CSRC), the sector watchdog, nodded registration of the first batch of nine publicly-offered infrastructure real estate investment trusts (REIT) on Monday, reported Xinhua-run Xinhua Finance.
The approval, which involves five infrastructure REITs to be issued on Shanghai Stock Exchange (SSE) and four to be offered on Shenzhen Stock Exchange (SZSE), marked the pending public offering of these infrastructure REITs in China.
Generally, REITs refer to standardized financial products that convert real estate assets or related rights and interests into liquid and listed securities and can be publicly or privately placed. As an investment vehicle with relatively moderate return and risk, publicly-offered REITs are expected to expand the investment scope of social capital and enrich the wealth management basket of residents.
Last year, China carried out a series of policies and rules, paving the way for the approaching debut of publicly-offered infrastructure REITs products.
CSRC's nod represents a step further for China to pilot the publicly-offered infrastructure REITs, which are all closed-end funds and prioritize supports to weak infrastructure industries, high-tech industries and characteristic industrial zones or parks.
The SSE-based five ones have toll road, industrial park, storage and logistics facilities and polluted water treatment projects as their underlying assets. These underlying assets are located in the Beijing-Tianjin-Hebei area, Yangtze River Economic Belt, Guangdong-Hong Kong-Macao Greater Bay Area, and the Yangtze River Delta.
For the SZSE-related four ones, their underlying assets include garbage treatment and biomass power generation projects, industrial zones, toll roads, and storage and logistics facilities situated in the Beijing-Tianjin-Hebei area and Guangdong-Hong Kong-Macao Greater Bay Area.
Year to date, public offering and listing preparations of the five infrastructure REITs to be listed on SSE have basically been completed.
For enterprises, the pilot publicly-offered infrastructure REITs can help increase the liquidity of existing infrastructure assets and raise funds to strenghthen their weaknesses and invest in new programs for cultivating high-quality infrastructure assets, reported China Economic Net citing Wang Gang, secretary general of C-REIT Alliance previously.
When conditions turn mature, the high-quality infrastructure assets can be injected into the REITs so as to produce a closed-loop with good assets circulation for infrastructure investment, said Wang.
For investors, entrance of the mature infrastructure assets into capital market will benefit supply of financial products with long-term investment value and stable dividends, added Wang.
Based on the pilot programs, the future scope and regions of pilot publicly-offered infrastructure REITs are likely to be expanded and public offering of REITs may become a regular market practice, believed Wang.
Lin Caiyi, deputy dean of the research institute of China Chief Economist Forum once said that the existing infrastructure assets may have exceeded 100 trillion yuan in China and if calculated on basis of one percent of asset securitization rate, the potential infrastructure REITs market may surpass one trillion yuan.
Alongside approval of the first batch of the nine publicly-offered infrastructure REITs, the brand new trillion yuan-level market will be invigorated, meaningful for China's capital market construction and guidance of development of equity investment in infrastructure sector, according to Lin. (Edited by Duan Jing with Xinhua Silk Road, duanjing@xinhua.org)