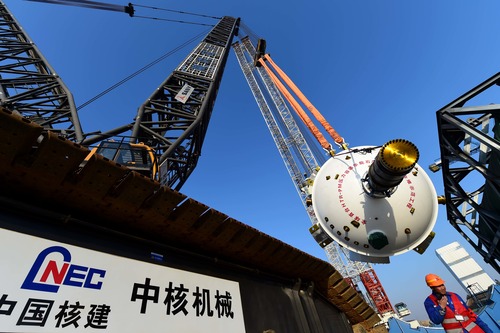 The pressure vessel of a high-temperature gas-cooled reactor (HTGR) is installed at the Huaneng Shidao Bay nuclear power plant, east China's Shandong Province, March 20, 2016. (Xinhua/Guo Xulei)
BEIJING, May 12 (Xinhua) -- China's first demonstration project of comprehensive utilization in smart nuclear energy has started construction recently in Weihai City, east China's Shandong Province, marking another innovative practice in comprehensive use of nuclear energy, reported local newspaper Tuesday.
Focusing on nuclear power generation, the project will create an innovative zero-carbon new energy model integrating photovoltaic (PV) power generation, offshore wind power, nuclear hydrogen production, nuclear heating, seawater desalination, and energy storage.
As a safe, economic and efficient clean energy source, nuclear power is an important energy generation option for China to achieve the peaking of carbon dioxide emission and carbon neutrality, according to an official of the Energy Administration of Shandong Province, who added that Shandong has been committed to exploring the comprehensive utilization of nuclear energy and the construction of related projects.
The project will utilize 5G network and big data technology to accurately collect, display and process multiple energy data, and provide timely monitoring of power supply and demand.
Meanwhile, the project also features with new facilities including intelligent energy storage, and electrolytic hydrogen production, to realize electricity storage and hydrogen production during the low power consumption period, as well as power grid access and peak regulation during the peak hours.
The total power generation is estimated to increase about 6 million kilowatt-hours every year after the project is put into operation, with expected carbon cut by 4,500 tonnes.
Shandong's energy department reveals that the province is cooperating with China's leading nuclear power companies to provide valuable experience in the development of nuclear power for Shandong and other provinces and regions across China.
(Edited by Jiang Feifan with Xinhua Silk Road, 346129473@qq.com)