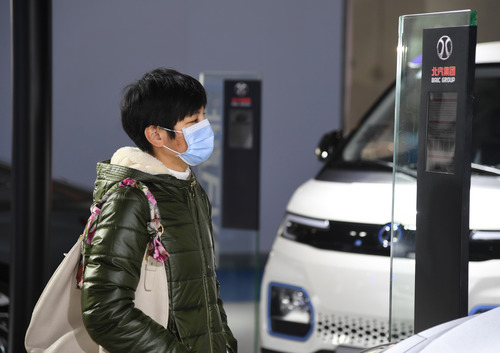 A visitor learns about self-driving cars at the 2020 World IntelligentConnected Vehicles Conference held in Beijing, capital of China, Nov. 12, 2020. The three-day conference kicked off here on Wednesday. (Xinhua/Ren Chao)
BEIJING, May 8 (Xinhua) – Six Chinese cities including Beijing, Shanghai, Guangzhou, Wuhan, Changsha and Wuxi have been selected as the first batch of pilot cities for promoting the coordinated development of smart city infrastructure and intelligent connected vehicles, according to a circular issued by Chinese authorities Thursday.
Chinese authorities call on the six cities to provide sound financial support for the pilot work and to develop replicable and scalable implementation experiences for other provinces and cities.
While strengthening the urban infrastructure, the coordinated development also addresses the improvement of intelligent vehicle manufacturing and remission of urban traffic congestion.
Relevant authorities have previously clarified seven specific measures to enhance the urban infrastructure, such as promoting the construction of City Intelligent Modeling (CIM) platform, and facilitating the renovation of intelligent municipal infrastructure.
By far, more than 20 Chinese cities have carried out pilot work on the new urban infrastructure, and it is expected to see more pilot cities of the coordinated development of smart city and intelligent connected vehicles projects as many cities have applied for pilot projects under this area, according to Wang Menghui, head of the Ministry of Housing and Urban-Rural Development (MOHURD).
The MOHURD has set up CIM platforms in major provincial capitals across China, according to Wang, adding that the priorities will be given to the six pilot cities to develop the digitalization of municipal and transportation services.
(Edited by Jiang Feifan with Xinhua Silk Road, 346129473@qq.com)