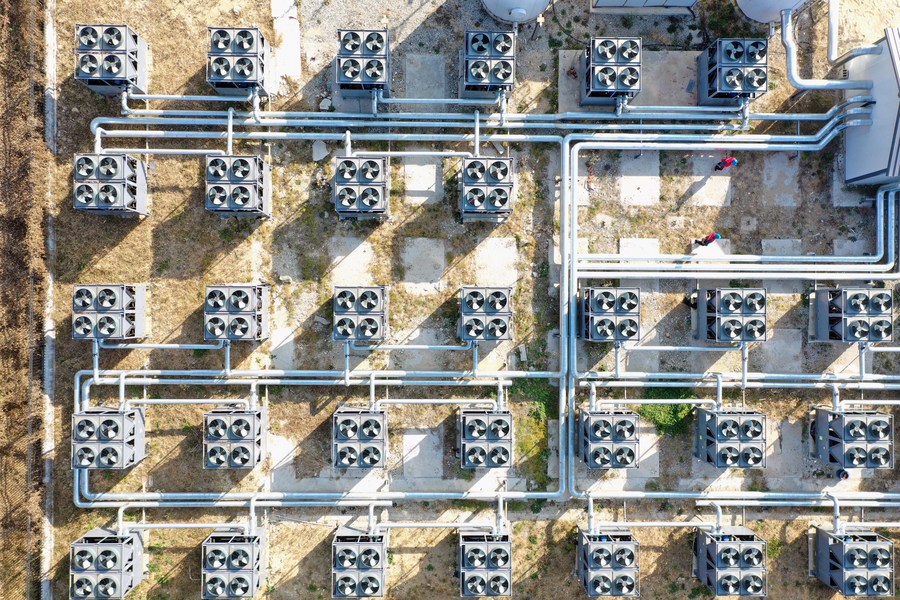 Aerial photo taken on Nov. 12, 2020 shows a heating station with clean energy at Wendeng district in Weihai, east China's Shandong Province. (Xinhua/Zhu Zheng)
BEIJING, April 30 (Xinhua) -- China will release more favorable policies to support the high-quality development of renewable energy, so as to achieve peaking carbon emissions and carbon neutrality, reported Economic Information Daily Friday quoting the National Energy Administration (NEA) of China.
According to the spokesperson of NEA, efforts will be made to strengthen the guidance mechanism of renewable energy power consumption responsibility weight, so as to guide all regions to strengthen the development and utilization of renewable energy and promote inter-provincial renewable energy power trading.
Measures will also include establishing an incentive mechanism to encourage the use of renewable energy, encouraging renewable energy to participate in market transactions in an orderly manner to realize full consumption, and improving the pricing mechanism for renewable energy to stabilize investment expectations and mobilize the enthusiasm of all parties in developing renewable energy.
Efforts will also be made to improve the green energy consumption mechanism and the green power certificate mechanism, establish the green energy consumption certification and labeling system, actively guide the consumption of green energy, and strengthen policy support for renewable energy in land and sea use, taxation, investment and financing.
Data released by NEA on Thursday showed that by the end of the first quarter of 2021, China's installed renewable energy power generation capacity reached 948 million kilowatts, including 371 million kilowatts of hydropower installed capacity, 287 million kilowatts of wind power installed capacity, 259 million kilowatts of photovoltaic installed capacity, and 31.485 million kilowatts of biomass power installed capacity.
The electricity generated by renewable energy has also maintained sustained growth. According to industry statistics, from January to March this year, China's renewable energy-generated power notched 475.47 billion kilowatt-hours, including 195.9 billion kilowatt-hours of hydropower, 173.7 billion kilowatt-hours of wind power, 68.8 billion kilowatt-hours of photovoltaic power, and 38.08 billion kilowatt-hours of biomass power.
Notably, renewable energy maintains a high level of utilization. In the first quarter of 2021, the hydropower waste due to power rationing in major river basins of China was about 1.249 billion kilowatt-hours, with the water energy utilization rate standing at about 98.95 percent, the wind power waste due to power rationing registered 7.2 billion kilowatt-hours, with an average utilization rate of 96 percent, and the photovoltaic power waste due to power rationing recorded 1.7 billion kilowatt-hours, with an average utilization rate of 97.5 percent.
(Edited by Gu Shanshan with Xinhua Silk Road, gushanshan.1987@163.com)