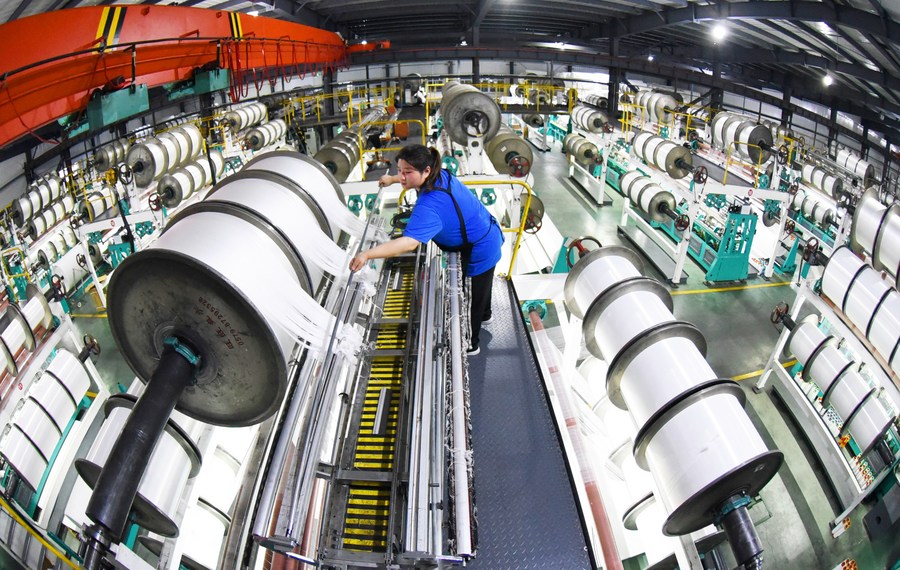 A worker is busy on the production line at the weaving workshop in an economy development zone in Lianyungang, east China's Jiangsu Province, Oct. 19, 2020. (Photo by Geng Yuhe/Xinhua)
BEIJING, April 29 (Xinhua) -- China Banking and Insurance Regulatory Commission (CBIRC) has recently issued a circular to urge banks to offer more credit support for the manufacturing industry, reported Shanghai Securities News on Wednesday.
Efforts will be made to strengthen financial support for the manufacturing industry, optimize working mechanism of financial services for the industry and defuse risks for vulnerable manufacturing enterprises, according to China's top banking and insurance regulator.
Lenders should increase the proportion of loans issued to the manufacturing industry, with a focus on medium- and long-term loans and credit loans, says the circular.
Banks are encouraged to make rate discounts for manufacturing enterprises while barriers such as excessive charges are forbidden.
The circular also encourages the banking sector to extend inclusive loans for small and micro enterprises (SMEs) and closely monitor the loan quality to ensure early responses to potential risks.
Besides, debt-to-equity swap programs are considered an effective method to help manufacturing enterprises with long-term potential to tide over current difficulties.
While ensuring risk control for enterprises, the insurers are also encouraged to invest in advanced manufacturing and strategic emerging industries.
(Edited by Li Shimeng with Xinhua Silk Road, lishimeng@xinhua.org)