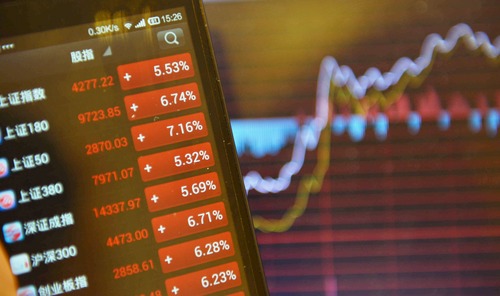 BEIJING, April 26 (Xinhua) -- Among the 999 A-share market listed firms that announced their quarterly financial results by Sunday, 864 ones realized net profit growth over the same period of last year, reported Xinhua-run Xinhua Finance Monday.
Apart from these, 67.39 percent or 62 of the 92 firms having released their semiannual performance forecasts predicted positive net profit growths year on year.
The 92 firms maintained pleasant net profit growths. For the 62 firms, 9 expected their semiannual net profit to creep up. 15 anticipated themselves to start profiting in the first half of this year as they cranked up efforts on market expansion and costs control to improve their profitability. The remaining ones projected their half-year net profits to grow.
Benefited from products price rise and stronger demand, A-share listed firms whose businesses are closely linked with the economic cycles in China posted notable growths in the first quarter.
In rare earth sector, related A-share listed companies will embrace new growth drivers when broad application of permanent magnetic materials in new energy vehicles, wind power, home appliances with inverter technology, and industrial robots fuels up demand and price surge of rare earth.
Manufacturers such as lithium cell makers also foresaw in their semiannual financial result forecasts through production capacity utilization and improved operational rate thanks to the expectable better demand in the second quarter.
For sectors undergoing recovery in the post-epidemic era, their improved quarterly performances are likely to continue in the second quarter, represented by traditional industries such as chemical, auto manufacturing, and real estate.
In the first quarter, many auto manufacturers saw their sales expand rapidly due to the recovered passenger car market and are anticipated to continue to hail growing sales from April to June.
Chemical firms cheered recovered quarterly financial results from January to March and predicted to have another optimistic quarter from April to June.
Besides, part of the A-share listed firms that released their semiannual financial results by Sunday believed that their renewable energy business may realize fast growth in view of the upsized efforts in environmental protection in the country in the second quarter.
For instance, prices of paper products rose on the back of the carbon neutrality goal in the first quarter and related A-share listed companies hence stepped into a circle with high development momentum.
However, fund managers only slightly added their holdings of light industry stocks including those of paper makers since the beginning of 2021 and up to date, food and beverage, biomedicine and electronics are still the most heavily invested stocks for fund managers. (Edited by Duan Jing with Xinhua Silk Road, duanjing@xinhua.org)