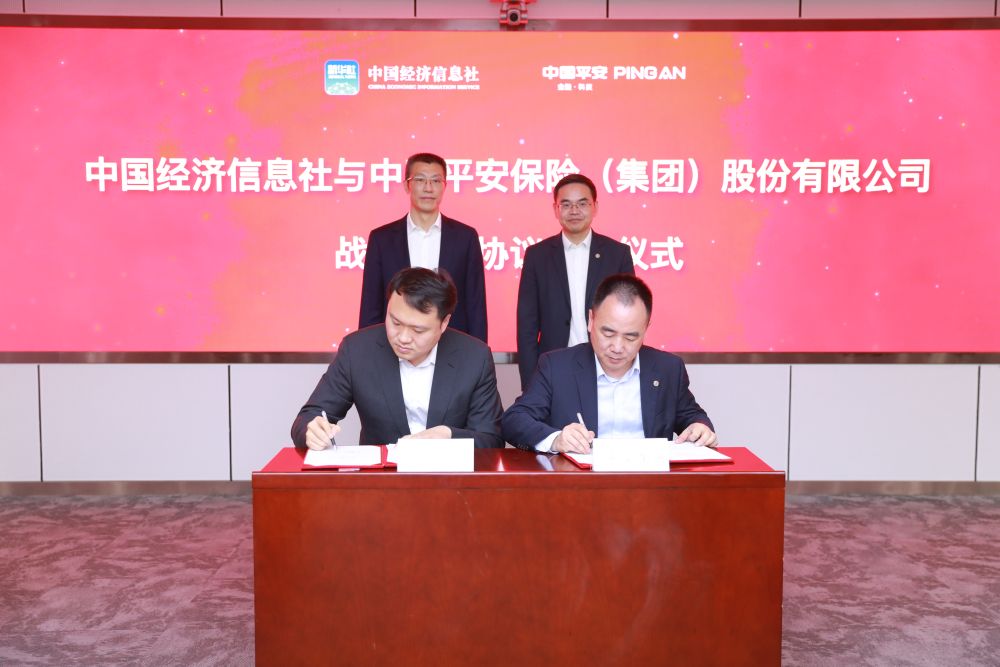 Photo shows the signing ceremony of strategic agreement between China Economic Information Service (CEIS) and Ping An Insurance (Group) Company.
BEIJING, April 22 (Xinhua) -- China Economic Information Service (CEIS) and Ping An Insurance (Group) Company of China, Ltd. jointly unveiled the company list of Xinhua CN-ESG Selected 500 Strategy in Beijing on Wednesday, aiming to help enterprises pursue ESG sustainable development and low-carbon transition and contributing to the country's goal of peaking carbon dioxide emissions and carbon neutrality.
Based on the Xinhua CN-ESG Evaluation System released last December, the Xinhua CN-ESG Selected 500 Strategy selects 500 companies with the highest environmental, social and governance (ESG) scores among the pool of over 4,000 companies listed on the A-share market, with technologies such as artificial intelligence (AI) and machine learning.
The CEIS will enhance ESG risk monitoring and update rating results on a regular basis, in a bid to meet sustainable development demands of the market players and investors.
According to the preliminary calculation based on the ESG scores as of the end of last year, the average scores for the 500 companies stood at 60.8, which was in line with the infant stage of ESG development in China.
In terms of industries, financial firms gained higher scores compared to others, with an average of 67.3. Metal smelting and rolling processing industry, and civil engineering construction ranked the second and third, with their scores reaching 63.9 and 63.4 respectively.
While referencing ESG-related compliance disclosure standards both domestically and internationally, the Xinhua CN-ESG Evaluation System focuses on the core ESG issues of Chinese enterprises. The evaluation system integrates more than 10 ESG themes, 130 basic indicators, 350 data points and 40 industry risk and opportunity matrix indicators that meet domestic and international requirements.
In addition, the CEIS will provide various comprehensive information service related to ESG for the 500 enterprises, such as ESG evaluation, information disclosure and training. It will also help develop responsible Chinese enterprise and compile themed indexes concerning ESG and carbon neutrality, contributing to China's goal of peaking carbon dioxide emissions and carbon neutrality.
The introduction of Xinhua CN-ESG Selected 500 Strategy came out at a key juncture of ESG development. Due to the pandemic, ESG sustainable investment has been welcomed by investors, as indicated by a survey by HSBC that 84 percent of investors in the Chinese mainland, Hong Kong and Singapore have deemed sustainable development, environment and ethical issues key factors in their investment decision-making process, while more than half couldn't find suitable investment products on the market.
Ping An, as a responsible integrated financial services group in China, has taken the lead in joining international ESG investment initiatives such as the United Nations-supported Principles for Responsible Investment. It is committed to promoting finance to contribute to sustainable development of society and the environment. Under its "finance + technology" strategy, Ping An is also developing smart applications for ESG analysis in various financial scenarios.
CEIS is one of the largest economic information service organizations in China with the widest range of service and the most comprehensive product categories. It undertakes four major information service platforms including the national financial information platform "Xinhua Finance", the Belt and Road-centered comprehensive information service platform "Xinhua Silk Road", the national credit information service platform "Xinhua Credit"and the "Xinhua Indices".
(Edited by Li Shimeng with Xinhua Silk Road, lishimeng@xinhua.org)