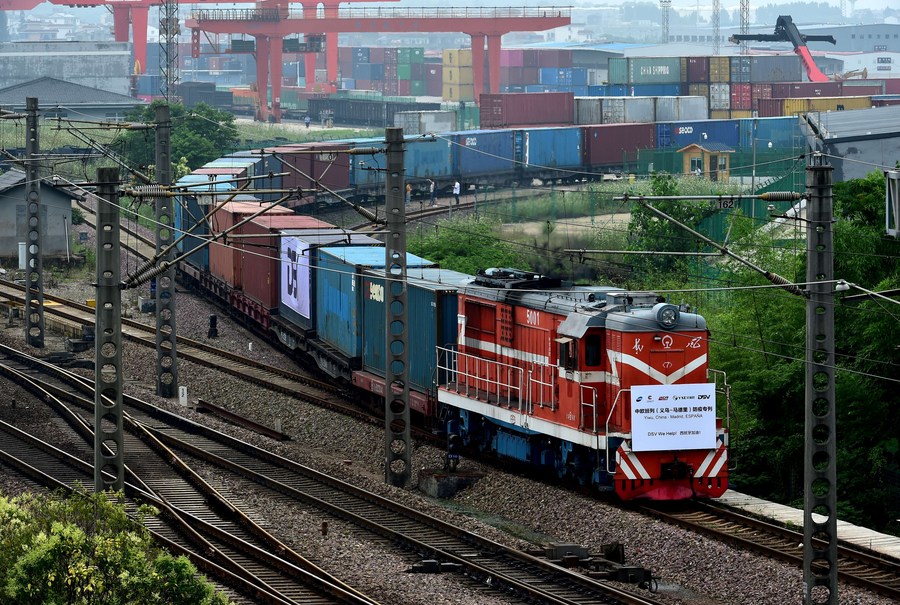 A China-Europe freight train carrying medical supplies bound for Madrid of Spain departs the city of Yiwu, east China's Zhejiang Province, June 5, 2020. (Photo by Lyu Bin/Xinhua)
BEIJING, April 16 (Xinhua) -- China's cooperation in trade and investment with Belt and Road (B&R) countries has shown a sound developing momentum this year, reported Economic Information Daily Friday quoting the Ministry of Commerce (MOC).
Data released Thursday showed that China's actual use of foreign capital registered 302.47 billion yuan in the first quarter of this year, up 39.9 percent year on year, with the actual investment from the B&R countries, the Association of Southeast Asian Nations (ASEAN) and the European Union (EU) rising by respectively 58.2 percent, 60 percent and 7.5 percent (including the data of investment through free ports) year on year.
According to MOC spokesperson Gao Feng, form January to March this year, China's imports and exports with B&R countries stood at 2.5 trillion yuan, increasing by 21.4 percent year on year and accounting for 29.5 percent of the country's total, with export value up 28.6 percent to 1.41 trillion yuan and import value up 13.2 percent to 1.09 trillion yuan.
In terms of two-way investment and contracted projects, during this period, China's non-financial direct investment in B&R countries recorded 4.42 billion U.S. dollars, up 5.2 percent year on year and accounting for 17.8 percent of the total in the same period. These countries established 1,241 new enterprises in China, up 44 percent year on year.
Besides, the completed turnover of China's contracted projects in these countries grew by 12.4 percent year on year to 17.75 billion U.S. dollars, and the newly signed contracts rose by 19.4 percent year on year to 31.34 billion U.S. dollars.
Remarkable results have been achieved since China put forward the Belt and Road Initiative (BRI).
According to MOC data, during the 13th Five-Year Plan period (2016-2020), China's investment in and cooperation with B&R countries have grown steadily, with the cumulative investment exceeding 90 billion U.S. dollars, and the newly-signed foreign contracted projects reaching around 670 billion U.S. dollars and the completed turnover about 420 billion U.S. dollars.
A number of projects with good overall returns and great driving effect have taken root, which have boosted the economic development of the host countries, achieving mutual benefits and win-win results.
The joint B&R construction will continue to go deeper and more concrete. According to Vice Minister of Commerce Qian Keming, this year China will focus on improving the quality of trade, innovating investment and cooperation, building platform carriers, and strengthening the construction of related mechanism to promote the joint building of high-quality Belt and Road.
(Edited by Gu Shanshan with Xinhua Silk Road, gushanshan.1987@163.com)