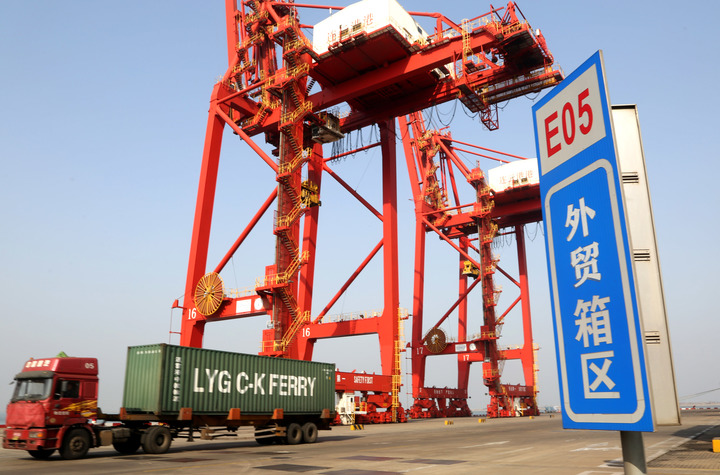 A container is transported on a truck at the container terminal of the Lianyungang Port in Lianyungang City, east China's Jiangsu Province, Jan. 14, 2021. (Photo by Wang Chun/Xinhua)
BEIJING, April 15 (Xinhua) -- China's foreign trade surged 29.2 percent year on year to 8.47 trillion yuan (about 1.29 trillion U.S. dollars) in the first quarter of 2021, as the country made continuous progress in COVID-19 prevention and control, as well as economic and social development.
Since the third quarter of last year, China's foreign trade has witnessed positive year-on-year growth for three consecutive quarters, and this trend is expected to continue for some time to come, Li Kuiwen, spokesperson of the General Administration of Customs (GAC), told a news conference.
Meanwhile, relevant departments are mulling over more favorable policies to boost China's foreign trade, concerning import tariff, regulatory policies and processing trade.
-- Improving structure with growing figures
According to Li, China's foreign trade in the first quarter of 2021 has posted remarkable progress, compared with last year when the foreign trade was faced with headwind due to the COVID-19 epidemic. Yet even compared with the same period in 2019, the trade growth this year is still considered impressive, with an increase of 20.5 percent.
The strong figures also indicate an optimizing structure of China's foreign trade, with four major trends illustrated as follows.
To begin with, private enterprises are now more vibrant and have become the main driving force behind China's foreign trade growth. Their foreign trade expanded by 42.7 percent to 3.95 trillion yuan in the first quarter.
From the perspective of regional distribution, the central and western regions has recorded an eye-catching performance. In the first quarter, the foreign trade in the central and western regions reached 1.5 trillion yuan, up 45.1 percent year on year, 15.9 percentage points higher than the national average. It accounts for 17.8 percent of the country's total, 2 percentage points higher than the same period of last year.
Another feature is that high-level opening-up mechanisms have become major driving forces for the trade growth. During the same period, the foreign trade volume of comprehensive bonded zones and pilot free trade zones (FTZ) increased by 41.1 percent and 28.4 percent, respectively. Imports of duty-free goods at Hainan Free Trade Port (FTP) surged by 162.5 percent on year.
In addition, general trade that involves longer production chains and better reflects the country's manufacturing strength rose 32 percent year on year to 5.19 trillion yuan, taking a larger share in the total trade of goods. Mechanical and electrical products took the lion's share of the country's exports, with their export value hitting 2.78 trillion yuan, up 43 percent year on year.
Cross-border e-commerce, an emerging form of foreign trade, had a significant growth. Based on the preliminary calculation, foreign trade through cross-border e-commerce channels rose by 46.5 percent on a yearly basis to 419.5 billion yuan in the first quarter, of which exports made up 280.8 billion yuan, an increase of 69.3 percent, and imports were 138.7 billion yuan, an increase of 15.1 percent.
Li believes that these figures reflect the continuous improvement of China's foreign trade in entities, domestic regional distribution, trade modes and product structures, and the steady progress in the quality of foreign trade. The surges can be attributed to the recovery of global economic trade and the continuous rebound of China's economy. Moreover, the rising commodity prices also pushed up China's imports in the first quarter.
-- More supportive policies on the way

A recent central meeting on China's foreign trade has made it clear that more efforts will be made to stabilize foreign trade and foreign investment. China's ministries are mulling over more supportive measures to expand their policy toolbox.
Innovation has been a buzzword in the past few months. To ensure stability in foreign trade, China will further encourage technological, institutional innovation and innovation in business mode, in a bid to promote quality improvement of imports and exports, integration of trade and industries and trade connectivity.
Based on the current data, new business forms such as the cross-border e-commerce have continued the sound momentum of last year, and thus won a series of policy supports, said Yin Zhengping, a researcher with the Ministry of Commerce (MOC).
According to a notice recently issued by a group of government departments including the Ministry of Commerce (MOC) and the National Development and Reform Commission (NDRC), all cities and regions that host free trade zones, comprehensive areas of cross-border e-commerce, comprehensive bonded-areas, and select bonded-logistics centers are now eligible to start pilot programs of cross-border retail imports. In these pilot areas, enterprises can get preferential tax policies, such as exemption of value-added tax and consumption tax on retail exports and reduction of corporate income tax rates.
Before this, China had approved five batches of 105 cross-border e-commerce pilot zones since the first such zone was set up in Hangzhou, Zhejiang province, in 2015.
While the first two batches of 13 zones were located in larger cities in the eastern coastal areas, the third batch and onward extended to the vast inland and later included the entire Hainan island, where China is planning to build a globally influential free trade zone by 2050.
The GAC is also mulling over new measures in regulatory measures and custom clearance procedures to support the healthy development of cross-border e-commerce.
Another focus is the regional coordinated development. The MOC earlier announced it would cultivate a batch of processing trade industrial parks, especially in the central, western and northeastern regions, as part of the efforts to promote regional coordinated development.
Processing trade takes up a very high proportion in China's foreign trade, and it is always favored by foreign enterprises, said Zheng Wei, a researcher with China Outsourcing Institute, adding that it is a wise choice to boost processing trade in the central, western and northeastern regions where costs are relatively low. This step is also considered an effective measure to stabilize foreign trade.
-- Faster transformation and upgrading

The MOC spokesman pointed out that thanks to the effective epidemic prevention and control in the country, sustained growth has been seen in domestic production and consumption, as well as the foreign trade.
He also noted that market confidence has ramped up as global economic and trade activities continue to recover.
Recently, major international economic organizations have raised the expected growth of economic and trade indexes.
For instance, the IMF raised its outlook for global economic growth to 6 percent this year from 5.5 percent in January's forecasts, while the WTO also adjusted the growth forecast of global trade in goods to 8 percent from the earlier 7.2 percent.

Experts predicted that the various favorable conditions will underpin faster transforming and upgrading of China's foreign trade.
According to Yin, with the implementation of these policies, China's foreign trade will gather steam and embark on an upgrading journey.
Zheng highlighted the importance of regional coordinated development, saying that the supports for the central, western and northeastern regions will further tap the potentials of China's foreign trade growth.
(Edited by Li Shimeng with Xinhua Silk Road, lishimeng@xinhua.org)