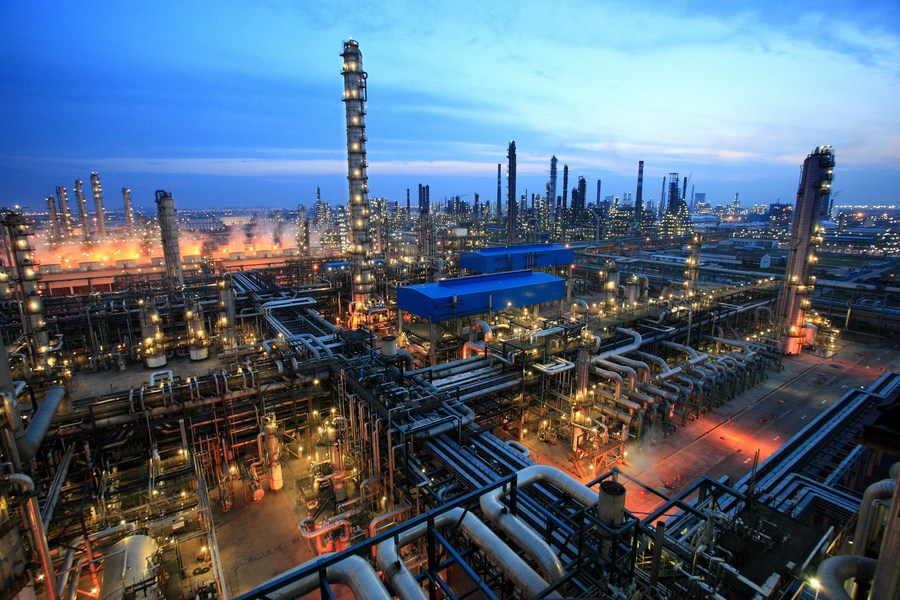 File photo shows an ethylene project at Sinopec Zhenhai Refining and Chemical Company in Ningbo, east China's Zhejiang Province. (Sinopec Zhenhai Refining and Chemical Company/Handout via Xinhua)
BEIJING, April 14 (Xinhua) -- China Petroleum and Chemical Corp (Sinopec), one of China's largest refiners, on Tuesday signed an agreement with LONGi Green Energy Technology Co.,Ltd, a Chineses solar technology firm, to purse clean energy solutions through closer collaboration.
According to the agreement, responding to the country's goal of carbon neutrality, the two parties will deepen cooperation in the following fields, such as distributed photovoltaic (PV), "PV+green hydrogen", and chemical materials, in a bid to increase presence in the market of clean energy application.
Zhang Yuzhuo, chairman of Sinopec, said that the company will prioritize the development of hydrogen power as a major clean energy. The past few year has witnessed a downward trend in the cost of PV power generation, which makes it possible to produce hydrogen through PV at a relatively low price. Therefore, its cooperation with LONGi could leverage strengths of both sides and seek growth together in all links in the new energy industry.
According to Li Zhenguo, founder and president of LONGi Green Energy Technology Co., Ltd, LONGihas been devoted to research and development (R&D) and technological innovation, key drivers for its products' upgrading and lowered cost. Going forward, it will further empower Sinopec in PV and hydrogen to achieve a low-carbon development.
(Edited by Li Shimeng with Xinhua Silk Road, lishimeng@xinhua.org)