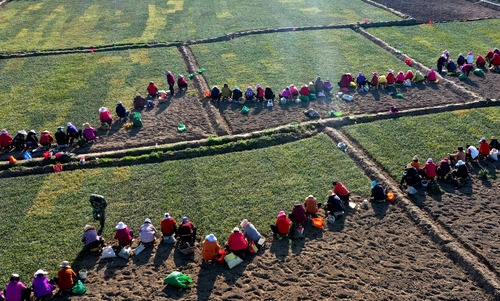 Aerial photo taken on March 3, 2020 shows villagers planting Ophiopogon japonicus, a traditional Chinese medicinal (TCM) herb, in the fields of Chunfeng Village in Mianxian County, northwest China's Shaanxi Province.(Xinhua/Tao Ming)
BEIJING, April 13 (Xinhua) -- Northwest China's Shaanxi Province has stepped up efforts to boost the development of the traditional Chinese medicine (TCM) industry, Shaanxi Daily reported recently.
According to the local authorities, the province has issued a guideline on standardizing the timely TCM processing in TCM-producing regions with an aim to effectively control the quality of TCM from the source and push forward the high-quality development of the TCM in Shaanxi Province.
The guideline points out that it will take five years to make the processing work of TCM in the production place reach the goal of unified quality control standards, standardized production area processing management, and reasonable and advanced technological processes.
Production enterprises shall strengthen the supervision and management of processing workshops, carry out regulatory and business competence training, improve the quality management system, and provide necessary equipment for TCM cleaning, sorting, cutting, drying, screening, etc.
In the past five years, China made solid progress in improving capability and accessibility of TCM service.
(Edited by Yang Yifan with Xinhua Silk Road, yangyifan@xinhua.org)