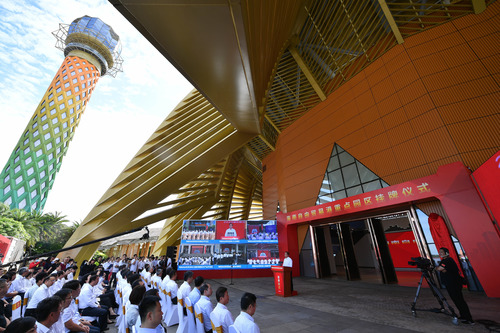 BEIJING, April 12 (Xinhua) -- Chinese financial regulators issued a guideline to support Hainan, the largest special economic zone in the country, to comprehensively deepen reform and opening-up with supportive financial measures, reported Xinhua-run Xinhua Finance citing a notice posted on website of the Chinese central bank on April 9.
The guideline contained 33 concrete measures aiming to improve convertibility of Renminbi (RMB) to facilitate cross-border trade and investment liberalization, optimize financial market system, enlarge financial industry opening-up, strengthen financial product and service innovation, improve financial service level and reinforce financial supervision and risk prevention in the island province.
China encouraged foreign financial institutions in the guideline to start business and set up Sino-foreign jointly-funded banks in the province. Local banks in Hainan are supported to introduce qualified foreign strategic investors to optimize ownership structure and corporate governance so as to widen the opening-up of Hainan's banking sector.
To better local financial market system, the guideline proposed to support development of Hainan's banking industry. For instance, Hainan is backed to introduce national joint stock commercial banks to establish local branches, research over rural credit cooperatives reform to better service local rural vitalization, enhance financial services for sectors such as maritime and high-tech industries, and introduce foreign investors to participate in local asset management firms.
Meanwhile, qualified Hainan businesses are supported to conduct initial public offerings (IPO) and expand themselves via the multi-layer equity market. Merger and acquisition activities of Hainan-located companies will continue to be supported to boost their business transformation and upgrading.
For strengthening financial product and service innovation, international market-oriented RMB-denominated financial products and businesses are encouraged in the guideline, together with the widening of the scope of financial products in Hainan allowed for investment by foreign RMB holders.
Hainan-located market entities are allowed to introduce foreign RMB investors into the investor team of their RMB-denominated bonds to be issued abroad and enterprises in high-tech, medical care and health, tourism, exhibition and transportation industries will be given key supports in this regard. (Edited by Duan Jing with Xinhua Silk Road, duanjing@xinhua.org)