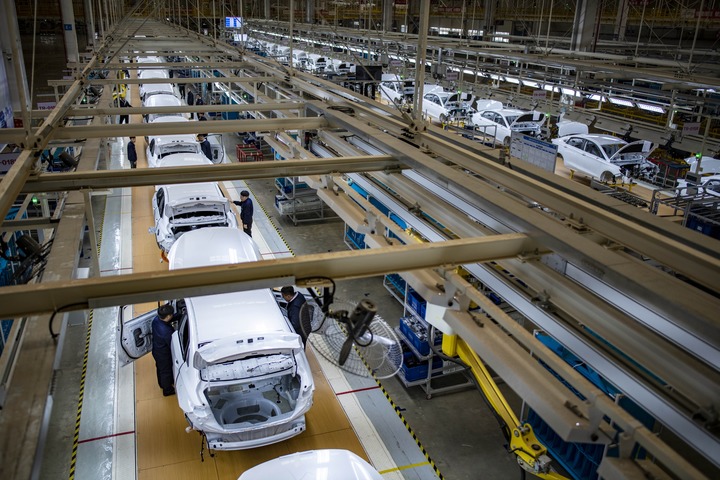 Photo taken on Dec. 3, 2020 shows a production line of new-energy vehicles in Kunming, southwest China's Yunnan Province. (Xinhua/Jiang Wenyao)
BEIJING, April 7 (Xinhua) -- Local authorities in southwest China's Yunnan Province allocated 7.06 billion yuan of special funds for promoting the development of manufacturing sector during the 13th Five-Year Plan period (2016-2020), reported Yunnan Daily Tuesday.
The province distributed a total of 150 million yuan into the automobile manufacturing sector in the past five years, supporting the construction of 36 major projects in the auto industry.
Meanwhile, a total of 1.25 billion yuan of subsidy funds have been injected to further promote the application of NEV in the province.
At present, 4 complete vehicle manufacturing enterprises and 7 modified vehicle companies were settled in the province, which can achieve an average production of 382,000 units per year. Among them, 7 enterprises are qualified to produce NEV vehicles.
From 2016 to 2020, a total of 1.93 billion yuan was allocated to transform and upgrade the manufacturing industries in Yunnan, while another 3.16 billion yuan was distributed to support projects' construction in private sectors.
In 2020, Yunnan Province raised 18.06 billion yuan for infrastructure projects under 79 manufacturing parks by issuing local government special bonds.
(Edited by Jiang Feifan with Xinhua Silk Road, 346129473@qq.com)