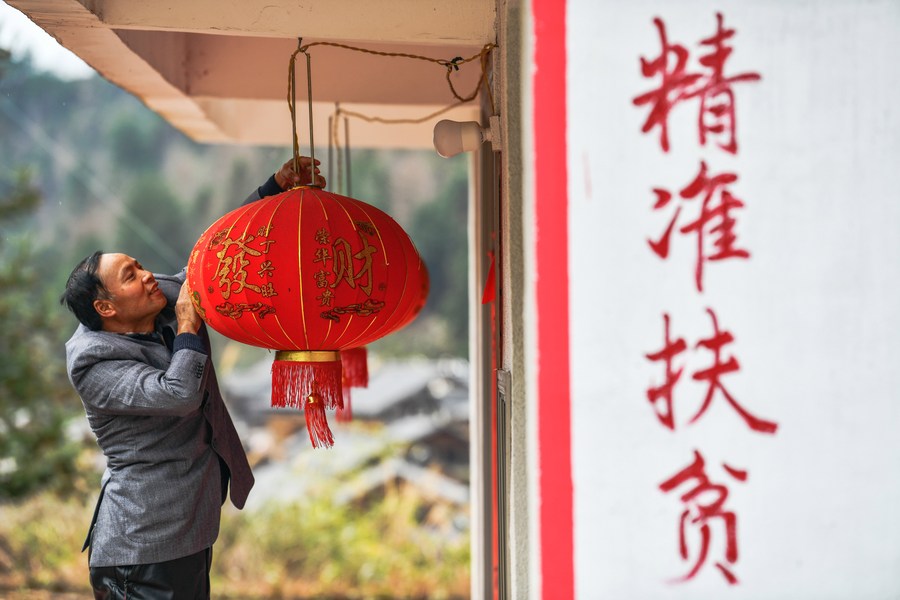 Luo Xingbang, a villager who has shaken off poverty, arranges a red lantern in front of his new residence at Sangma Village, Yingshan Township in Dushan County of southwest China's Guizhou Province, Jan. 25, 2020. Guizhou, which used to be a provincial-level region with the biggest population of poor people, has lifted more than 9 million people out of poverty since 2012. (Xinhua/Yang Wenbin)

BEIJING, April 6 (Xinhua) -- China's successful practice and valuable experience in eliminating extreme poverty have enriched and extended the theory of international poverty alleviation, says a white paper released Tuesday.
The practice and experience have boosted the confidence of other countries, especially developing ones, in eradicating extreme poverty, according to the white paper titled "Poverty Alleviation: China's Experience and Contribution."
The country's experience has also served as reference for other countries to choose a suitable path of poverty reduction and offered China's approach to solving the problem of modern national governance and creating brighter prospects for social progress, the white paper says.