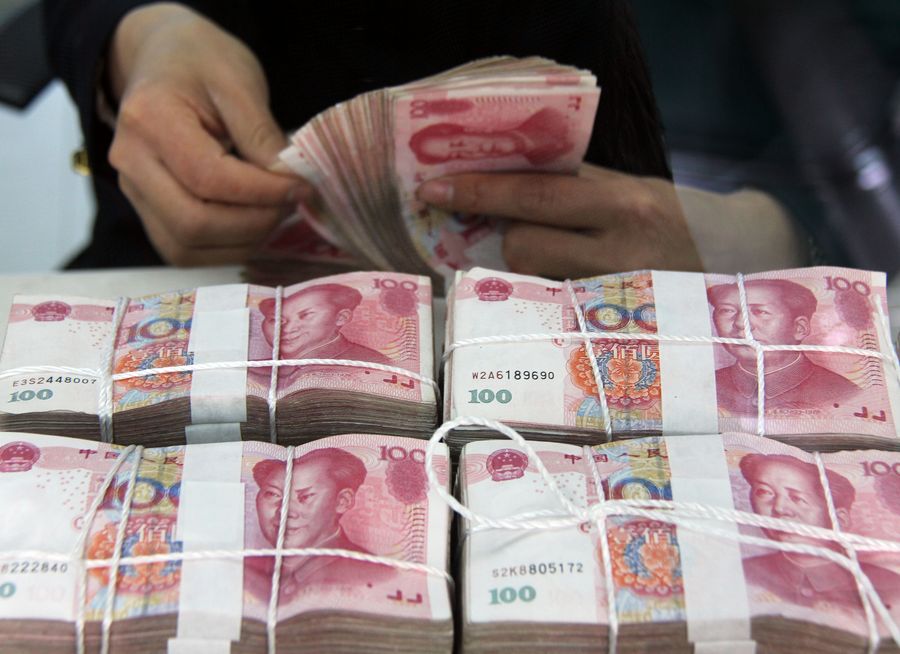 A bank staff counts Chinese currency Renminbi banknotes at a bank in Tancheng County of Linyi City, east China's Shandong Province. (Xinhua/Zhang Chunlei)
BEIJING, April 2 (Xinhua) --The Chinese currency renminbi (RMB) has taken increasing share in the global foreign exchange (forex) reserves, marking a step forward in RMB internationalization, reported Shanghai Securities News Friday.
According to the Currency Composition of Official Foreign Exchange Reserves (COFER) data released recently by the International Monetary Fund (IMF), in the fourth quarter of 2020, the share of RMB in the global forex reserves rose to 2.25 percent, a new high since IMF reported the data, with the amount up to 267.52 billion U.S. dollars, the eighth consecutive quarter of growth.
Compared with other major economies that have implemented large-scale quantitative easing, China saw the yield on it's 10-year treasury bonds remain stable above 3 percent in the past six months, attracting more economies to accelerate the accumulation of RMB as foreign exchange reserves, said Yang Aozheng, chief Chinese analyst with the foreign exchange trade platform FXTM.
RMB's international monetary function is increasing in all aspects, including international reserve, international payment, and international investment and financing. A growing number of market players are using RMB as a means of cross-border payment.
In 2020, the RMB settlement of cross-border trade reached 6.8 trillion yuan, more than a 12-fold increase over that in 2010, and in the face of the COVID-19 pandemic, the cross-border use of RMB still maintained a resilient growth, remaining the second largest cross-border payment currency in China.
FTSE Russell, a global multi-asset index provider, has recently confirmed the inclusion of Chinese government bonds in the FTSE World Government Bond Index (WGBI), and many foreign institutions believe that in the following 36 months, the Chinese bond market is expected to see more than 130 billion U.S. dollars of passive capital inflow.
This will further enhance the international development of China's financial market and strengthen the linkage and integration of the domestic capital market and the global financial market, said Liu Linan, head of Greater China Macro Strategy with Deutsche Bank, Germany's largest bank.
Some experts believe that the RMB's share in the global forex reserves will continue to hit record highs as global investors pile up their holdings of RMB assets.
Deutsche Bank expects that under China's continued financial reform and unabated two-way opening of the capital account, there will be a structural shift in the demand of international investors, and global reserve funds and passive and active investors will continue to increase their allocation of RMB assets.
(Edited by Gu Shanshan with Xinhua Silk Road, gushanshan.1987@163.com)