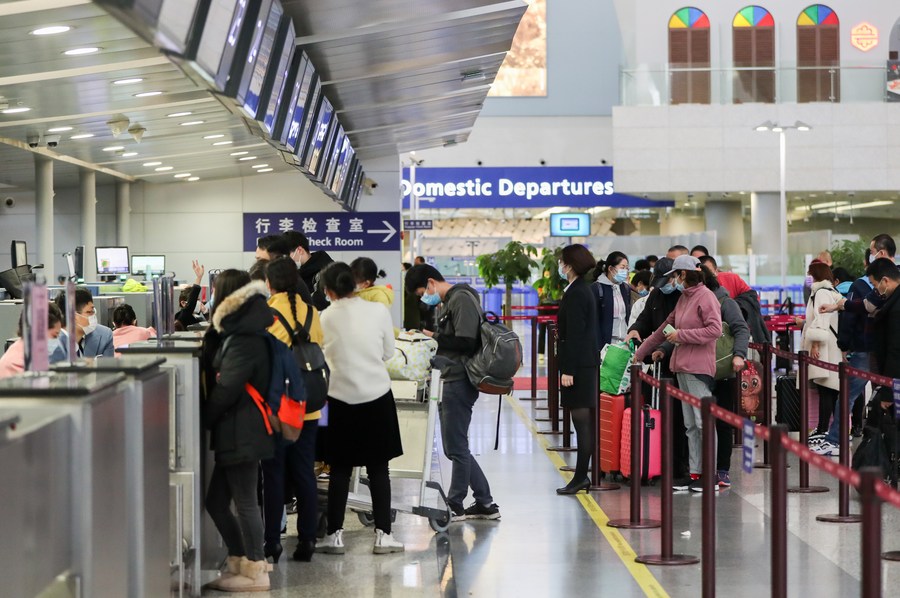 Passengers check in at the domestic departure section of Terminal 2 building of the Shanghai Pudong International Airport in east China's Shanghai, Nov. 24, 2020. (Xinhua/Ding Ting)
BEIJING, April 1 (Xinhua) -- China's civil aviation sector reported a solid recovery so far this year and is expected to maintain its current momentum amid a stable COVID-19 situation, the Xinhua-run Shanghai Securities News reported on Thursday.
It is worth noting that people's willingness to travel has enhanced after this year's Spring Festival holiday, resulting in a rebound in air passenger trips.
In March, the country saw the average daily number of flights amount to 12,300, 2.3 times of that in 2020.
Since the beginning of March, the domestic air route market has achieved positive growth compared to the same period in 2019, with the average daily number of flights increasing 7.6 percent year on year, said Zheng Hongfeng, CEO of VariFlight.
As China's local governments further lift travel restrictions, the average daily passenger load factor of domestic routes has reached more than 70 percent, a record high since 2021, according to Zhang.
Chinese airlines have added more domestic flights to their schedules for the upcoming summer-autumn aviation season.
According to the Civil Aviation Administration of China (CAAC), Chinese airlines are expected to launch more domestic routes during the summer-autumn aviation season, spanning from March 28 to October 30 and arrange 90,460 domestic passenger flights per week for the new season , up 10.6 percent from the same season in 2020 .(Edited by Yang Yifan with Xinhua Silk Road, yangyifan@xinhua.org)