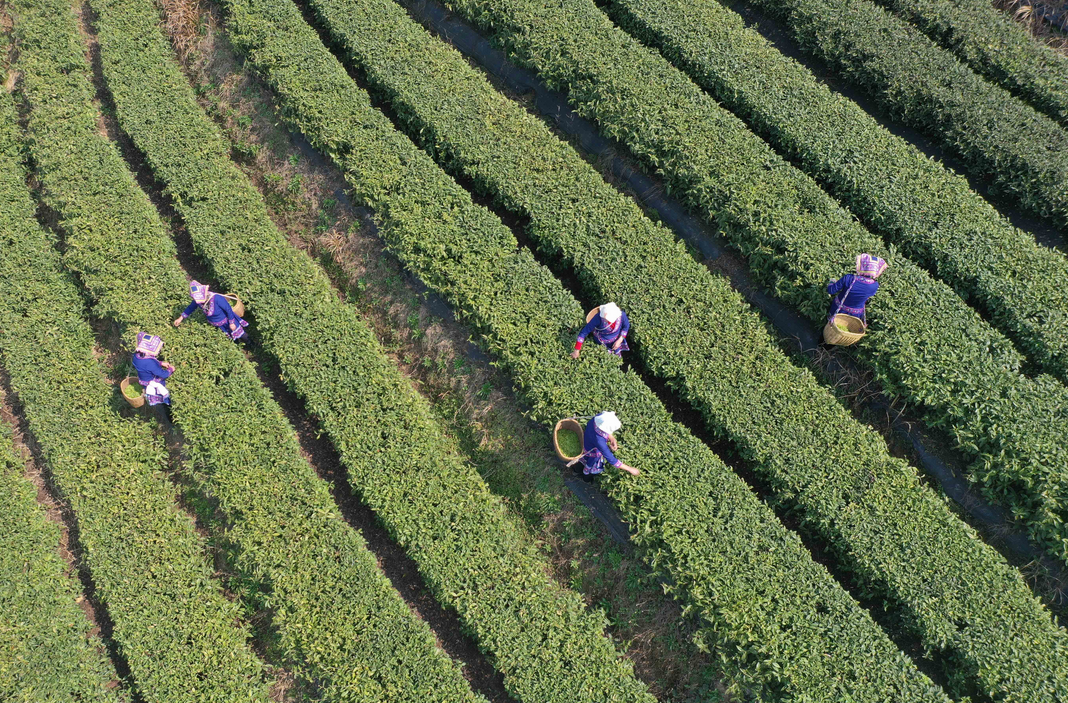 Aerial photo taken on Feb. 22, 2021 shows farmers picking tealeaves at a teagarden in Panjia Village of Shuangpai County, central China's Hunan Province.
BEIJING, March 29 (Xinhua) -- In 2020, Central China's Hunan Province saw the output value of its tea industry exceed 96.6 billion yuan, a year-on-year increase of 6.15 percent, according to the 2021 working conference of the provincial tea industry held in Changsha, reported by Chinanews.com Saturday.
Hunan is a traditional inland tea-producing province in China with a long history of tea-growing and tea-making. Since the Sui and Tang Dynasties, tea, silk, and porcelain from Hunan have been shipped to West Asia and Europe.
In Hunan, the tea industry has maintained income growth for tea farmers, increased corporate efficiency, and increased fiscal taxation for more than ten consecutive years which has become a leading industry for consolidating the results of poverty alleviation, promoting rural revitalization and regional economic development with 6 national-level leading tea enterprises, said Zhou Chongwang, president of Hunan Tea Industry Association.
As of the end of 2020, the tea plantation area in Hunan reached 3.13 million mu with an output of 308,000 tonnes, with the year-on-year increase of 11.8 percent and 10 percent respectively. In 2020, the province exported nearly 50,000 tonnes of tea and earned 170 million U.S. dollars in foreign exchange (including border trade).
In the future, Hunan will give full play to the advantages of its multiple tea types, adhere to brand leadership, marketing innovation, technological innovation and business integration, promote the integrated development of the tea, culture, tourism, and health industry, promote base facilities, production automation, product refinement, and quality standardization, providing newdynamic for the industryprosperity and rural revitalization, said Tang Jianchu, deputy director of the Department of Agriculture and Rural Affairs of Hunan Province.
(Edited by Gao Jingyan with Xinhua Silk Road, gaojingyan@xinhua.org)