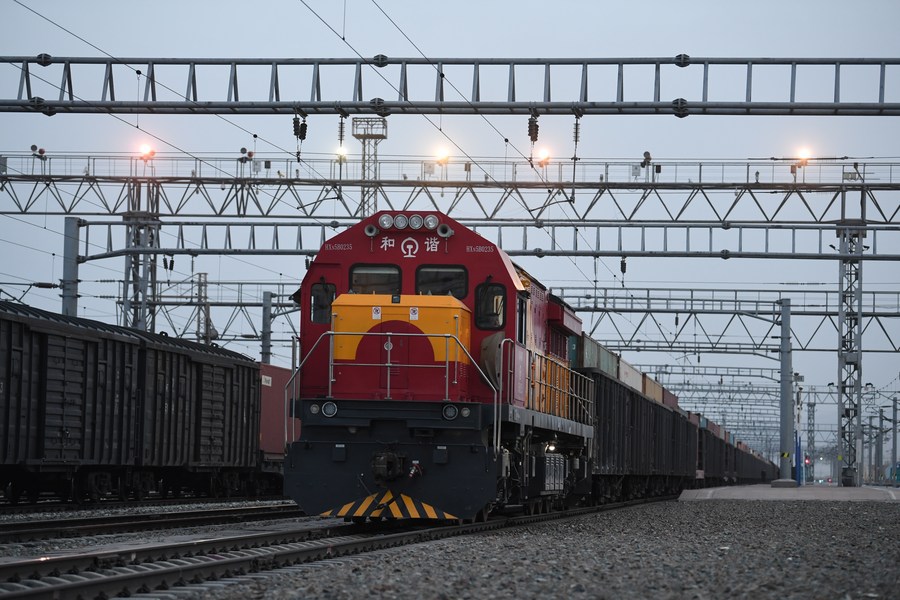 A China-Europe freight train pulls out of Alataw Pass in northwest China's Xinjiang Uygur Autonomous Region, April 12, 2020. (Xinhua/Sadat)
BEIJING, March 25 (Xinhua) -- Local customs in Urumqi, capital of northwest China's Xinjiang Uygur Autonomous Region saw surges of 280 percent, 281.96 percent and 583.02 percent in the number of China-Europe freight trains, cargo volume, and goods value, respectively, in the first two months of this year, reported Xinjiang Daily Wednesday.
The number of China-Europe freight trains handled by the logistics hub in Urumqi during January and February reached 76, with more than 79,100 tonnes of cargo transported, and a total worth of 455 million U.S. dollars.
With the introduction of the logistics hub, the autonomous region could leverage the train services from inland, selling its own products to the European countries.
"From the beginning of this year, the trains have been fully loaded and their carriages were added to 45 to 46, making Xinjiang an integral part of China's 'dual circulation' development pattern", said Xie Ping, an official with the local customs.
The local customs has taken initiative to customize logistics plan for medium and large manufacturers in the area, in order to tackle difficulties in the logistics process in advance and ensure a smooth journey of the cargo train. It has also facilitated the connection between China-Europe freight train and other transport modes through road, sea and air to ensure stable logistics in the region.
The local customs will lend more support to the Urumqi logistics hub to explore new business patterns and further develop cross-border e-commerce in the China (Urumqi) e-commerce pilot zone as a way to boost Xinjiang's foreign trade, said Li Fushan, the head of Wuchang Customs.
(Edited by Li Shimeng with Xinhua Silk Road, lishimeng@xinhua.org)