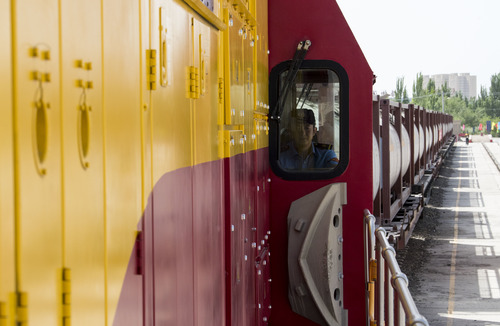 BEIJING, March 24 (Xinhua) -- The new-type of mutually beneficial cooperation with complementary advantages is bringing about in-depth integration between China and Germany in the value chain, reported People's Daily citing Wu Ken, the Chinese ambassador to Germany on March 20.
Many key industries in China are paving the way for future development, from which German companies see mass business opportunities, especially in high-tech industries, like innovative technologies and digital solutions. Both Chinese and German companies are constantly tapping the potential of innovation cooperation and improving the cooperation quality.
In the future, the potential of bilateral cooperation between China and Germany in artificial intelligence, autonomous drive, digital economy and other fields will be unleashed constantly, according to Wu.
--Demands of Chinese users are fertile soil for innovation
Statistics from the Federal Statistical Office of Germany showed that China has been Germany's most important trading partner for the fifth consecutive year by the end of 2020, when bilateral trade grew three percent year on year to about 212.1 billion euros despite the COVID-19 pandemic.
Facing global economic downturn, German chemical giant BASF has been increasing its investments in China's market. For the Shanghai Innovation Park project alone, it has made a total investment of up to 180 million euros and employed more than 700 R&D workers, making the park BASF's R&D hub in the world and the Asia-Pacific region.
Lou Jianfeng, president of BASF's global R&D platform for advanced materials and systems said the company will continue to invest more in its R&D center in Shanghai and shift its R&D focus to Asia as the company is so confident in China's market.
Another Germany giant Siemens is working with hundreds of Chinese industrial enterprises in implementing digital transformation and upgrading, in the hope of supporting China's innovative development in a sustainable manner. As of the fiscal year 2019, Siemens owned 21 R&D centers in China, with more than 5,000 R&D and engineering employees. In 2020, Siemens Mobility, a wholly-owned subsidiary of Siemens AG, announced the signing of a cooperation agreement with Chongqing Liangjiang New Area and the establishment of its first 5G Center of Competence in China.
The demands of Chinese users are fertile soil for innovation, believed Zhu Xiaoxun, head of Siemens Corporate Technology (CT) China, saying that based on Chinese cases, global scientists are developing and applying technologies, and accordingly many projects are creating customer value. At present, CT is undertaking more and more internationally leading projects, added Zhu.
Thorsten Keiter, senior vice president of TÜV Rheinland Greater China, deemed that China's supply chain has performed well in the global fight against the pandemic, giving impetus to the world economic recovery.
In his opinion, both China and Germany could explore more diversified forms of cooperation as their manufacturing industries are highly complementary. In the future, it is hoped that German innovative thinking and technical services in such fields as industrial infrastructure, new energy vehicles and supporting facilities and autonomous drive would be introduced into China, so as to empower the development of China's manufacturing industry and achieve win-win cooperation.
Meanwhile, more and more Chinese high-tech enterprises have gone abroad and invested in Germany.
In November, 2020, SVOLT Energy Technology Co., Ltd., a Chinese battery maker, announced it will invest two billion euros to build a battery factory and a R&D center in Germany. Upon completion, the plant is expected to feed battery demand of 300,000 to 500,000 electric vehicles.
This investment will produce, along with other suppliers, a positive synergistic effect and multiplier effect, enhancing Germany's competitiveness as a vehicle production base, said Stefan Di Bitonto, an automotive industry expert at Germany Trade and Invest (GTAI).
-- Sino-Germany cooperation boasts great potential
As China is leading the development in many key areas, it's important for German companies to have a foothold in China's market, reckoned Andreas Glunz, managing partner for International Business at KPMG in Germany.
A related annual business confidence survey showed that most German companies surveyed were optimistic about their business in China. What's more, 77 percent of German-invested companies in China expect that their businessese in China will outperform those in other countries' markets in 2021. About 72 percent of them expect that the sales in China will continue to rise. 56 percent expect that their profits will increase and 96 percent of them have no plan to leave China. What's more, 72 percent plan to invest more in such areas as production facilities, machinery and R&D.
According to the annual report for 2020 released by the Association of German Chambers of Industry and Commerce, there are about 5,200 German companies now in China, making China one of the top three markets for many German international companies in terms of sales, profits and investment. China is also the most important market for many local companies in Germany.
At the end of last year, as the negotiations on China-EU investment agreement were concluded, German experts and enterprises placed great hopes on deeper economic and trade cooperation between Germany and China and between the EU and China in the future.
Stephan Wollenstein, president of German Chambers of Commerce in China, said that under the China-EU investment agreement, German companies are expected to gain more legal guarantees and better competitive conditions in China's market.
Michael Schumann, chairman of the board of directors at the German Federal Association for Economic Development and Foreign Trade (BWA), the conclusion of negotiations on China-EU investment agreement is of great significance and has boosted the confidence of enterprises and investors on both sides.
After the end of the pandemic, it is hoped that the economic and trade relations between Germany and China will further deepen, held Schumann, highlighting that there is still great potential for cooperation between the two countries, and it's in Germany's interest to fully unleash the potential.
The latest data of the Association of German Chambers of Industry and Commerce showed that in 2019, nearly one third of the total trade volume between Europe and China came from Germany-China trades. (Edited by Duan Jing with Xinhua Silk Road, duanjing@xinhua.org)