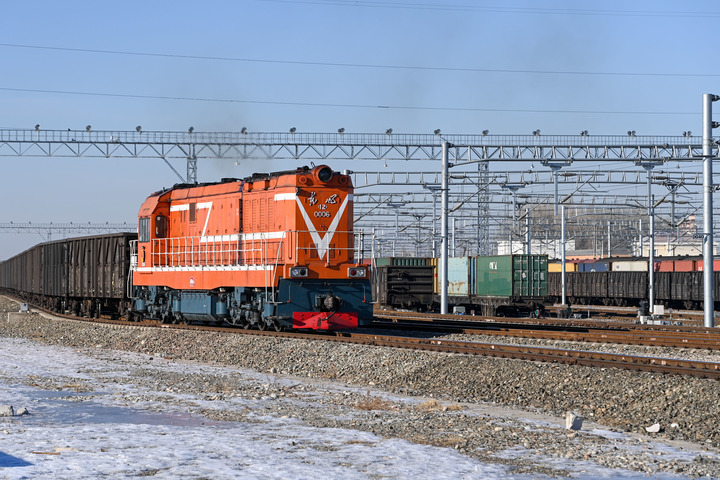 A China-Europe freight train is seen at the Horgos Port in northwest China's Xinjiang Uygur Autonomous Region, Feb. 6, 2021. (Xinhua/Ding Lei)
BEIJING, March 18 (Xinhua) -- Local customs in Urumqi, capital of northwest China's Xinjiang Uygur Autonomous Region recently introduced 28 measures, aiming at further promoting the foreign trade in the region, reported Xinjiang Daily Wednesday.
The measures focus on giving full play to Xinjiang's regional advantages, cultivating competitive industries, expanding the opening-up and improving business environment.
According to the measures, Xinjiang will use its regional advantages, improve the multimodal transport mode and support the Urumqi center of China-Europe freight train services to carry out multimodal rail transport by sea, road and air.
Meanwhile, it also plans to link the Transport International Router (TIR) with the China-Europe freight train services, to facilitate the connection of various transport modes and ensure stable logistics in the region.
In terms of cultivating competitive industries and promoting economic transformation, Xinjiang will support the development of fine chemicals, furniture manufacturing and other industries, and promote the on-the-spot processing of imported resource products; support the construction of designated supervision sites for chilled aquatic products, meat, medicines, and grains that meet the actual development of local industries, promoting the development of deep-processing of high-quality agricultural products; support the development of the textile and garment industry, and the mechanical and electronic industries, accelerating the pace of going global.
Efforts will be also made to promote the integrated development of manufacturing industry, processing trade and comprehensive protected zone, support deep-processing enterprises of bio-pharmaceutical, electronic contract manufacturing and imported agricultural products to settle in Xinjiang.
The region is expected to achieve a diversified industrial chain covering bonded warehousing, commodity display, packaging, international transit, international distribution and procurement.
In order to further implement more preferential policies, Xinjiang will actively support the integrated development of traditional trade and cross-border e-commerce.
(Edited by Jiang Feifan with Xinhua Silk Road, 346129473@qq.com)