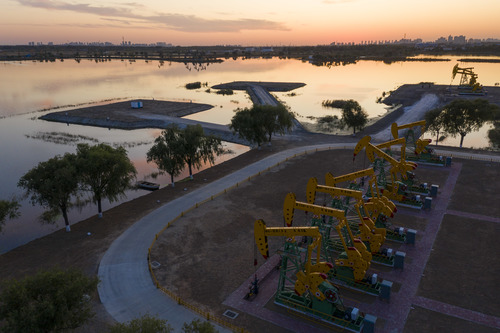 Aerial photo taken on Sept. 27, 2019 shows facilities at Daqing Oilfield in Daqing, northeast China's Heilongjiang Province. Daqing Oilfield, discovered on Sept. 26, 1959, is the largest oilfield run by PetroChina and also the country's largest oil production base. (Xinhua/Xie Jianfei)
BEIJING, March 18 (Xinhua) -- The trade center for global oil and gas industry is expected to continue shifting eastward under the impact of the COVID-19 pandemic, with international oil trade scale likely to drop slightly, according to a report released by the international consulting firm Deloitte on Wednesday.
Due to the continuous changes in the international political and economic situation, the implementation of digitalization and a systematic intelligent risk management system are crucial to the oil and gas enterprises during the 14th Five-Year Plan period (2021-2025), said the report.
The report predicted that economic and political uncertainties will inhibit cross-border investment in the oil and gas industry, which may be subject to stricter security scrutiny.
Moreover, with the development of crude oil futures, the volume of financial transactions in the oil market has far surpassed physical transactions, reflecting the increasingly obvious financial attribute of oil trade. (Edited by Zhang Yuan with Xinhua Silk Road, zhangyuan11@xinhua.org)