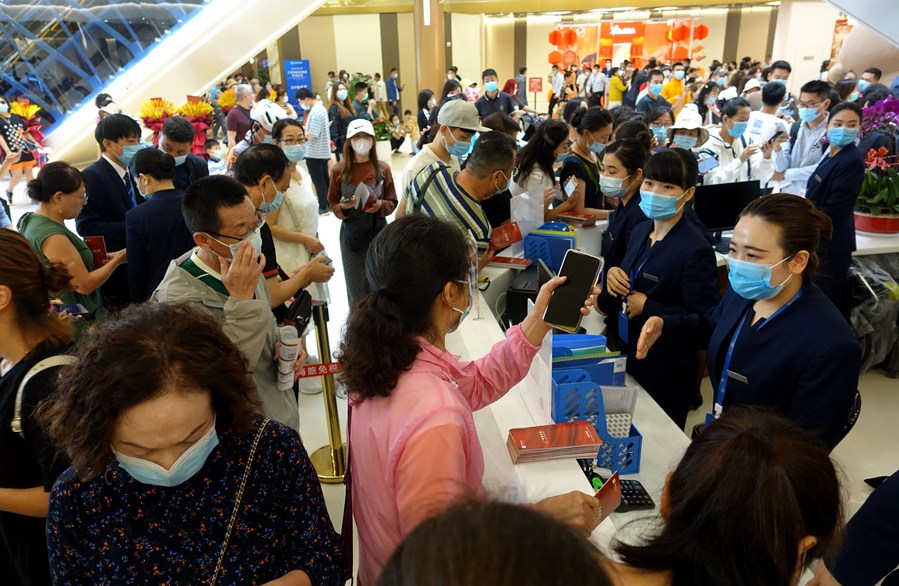 Consumers shop at a newly opened duty-free shop in Sanya, south China's Hainan Province, Dec. 30, 2020. (Xinhua/Zhao Yingquan)
More than 980,000 complaint cases were raised in 2020, over three-quarters of which have been handled securing around 1.56 billion yuan (about 240 million U.S. dollars) in refunds.
BEIJING, March 15 (Xinhua) -- In the face of an unprecedented pandemic and the world's urgent need to revive economy, China has mustered resources to answer the call from its huge population of consumers, as the 39th World Consumer Rights Day is observed Monday.
Issues such as faulty or overpriced anti-epidemic supplies and refund difficulties with airways have resulted from the COVID-19 epidemic while novel business models including remote learning and livestreaming in the vast e-retailing market have been plagued by considerable controversy over consumer rights.
More than 980,000 complaint cases were raised in 2020, over three-quarters of which have been handled securing around 1.56 billion yuan (about 240 million U.S. dollars) in refunds, data from China's local consumer associations showed.
The China Consumers Association (CCA) saw an almost even distribution of complaint cases in terms of commodities and services. The leading cause for discontent among consumers is inadequate after-sales services, accounting for about 28 percent of the total complaints. Compared with 2019, criticisms related to product quality have tapered off by 4.48 percentage points.
China's milk powder industry once reeled from the discovery of melamine in infant formula produced by its leading dairy firms, which led many mothers to look overseas for safer baby products. "As more stringent legislation and tighter scrutiny and regulations were put in place at home, an uptick in consumer confidence was evident," said Wu Zhirui, a new mother based in the city of Shaoyang, central China's Hunan Province.
Wu said that the reliable quality of homegrown milk powder and more convenient and timely services on offer have tipped the scales in domestic brands' favor.
Among commodities, household appliances saw the greatest number of complaints. Compared with the prior year of 2019, complaints about medical devices and computer products recorded higher growth than other products, the former largely due to the epidemic, according to the CCA.
Emerging consumption forms including purchasing via livestreaming platforms have also given rise to disputes between sellers and clients.
Last year, enthusiastic followers of Xin Youzhi, dubbed Simba, were met with disappointment as the leading livestreamer on China's popular short-video platform Kuaishou sold over 15 million yuan worth of fake cubilose, or edible bird's nests, in a livestreaming session held in October.
The nest products, mostly made of the secretions from the salivary glands of birds, are expensive delicacies that have been used in Chinese cooking for hundreds of years, and are traditionally believed to provide various health benefits. A number of Simba's customers complained that the bird's nests sold to them by the grassroots livestreamer were nothing more than sugar water.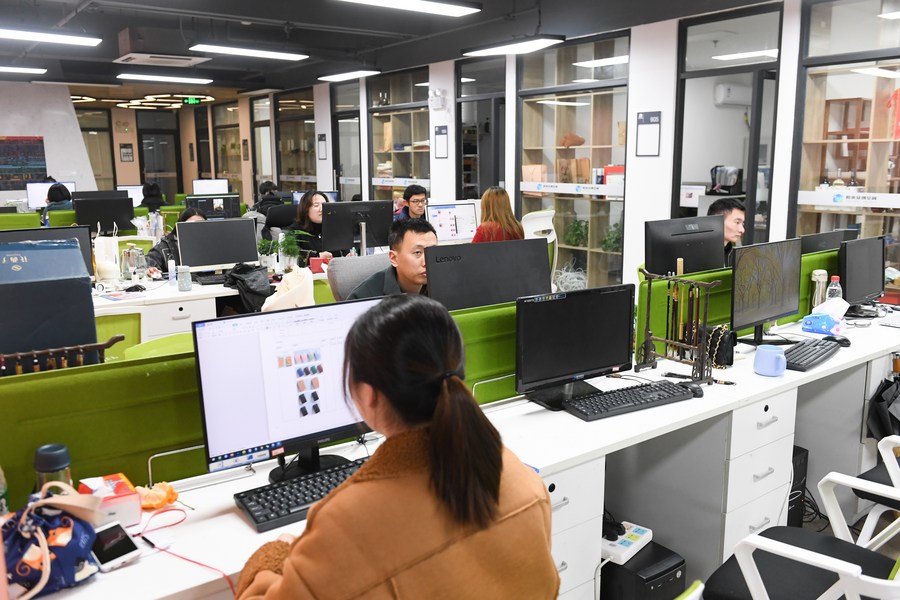 Young entrepreneurs work at Feiying e-commerce industrial park in Wuxing District of Huzhou City, east China's Zhejiang Province, March 8, 2021. Established in 2019, Feiying e-commerce industrial park in Huzhou, is invested by the local government in a bid to provide a service platform for young e-commerce entrepreneurs. (Xinhua/Weng Xinyang)
Now, problems like sellers infringing on consumers' rights and interests to boost their popularity and profits emerged in the once-trustworthy livestreaming e-commerce industry.
Zhejiang Province in east China is home to the country's leading e-commerce tycoons that are estimated to serve more than 960 million consumers worldwide. In late February, the province launched a digital supervision system for the country's e-commerce sector, the first of its kind in China.
Apart from common offenses including false promotion, unlawful pricing and intellectual property infringement, the platform has paid heed to potential monopoly cases such as firms using big data to target different consumer groups with different prices for the same products.
"To reassure consumers and boost our domestic consumption demand, our platform has highlighted its tapping into Zhejiang's digital advantages in big data and artificial intelligence so as to oversee the parties involved in production," said Zhang Genming, head of the provincial administration for market regulations.
Government-level efforts are visible everywhere. Recently, Beijing released a white paper on its achievements in protecting consumer rights over the past year. The capital city destroyed counterfeit goods related to the epidemic worth about 3 million yuan and issued China's first-ever maximum penalty of 3 million yuan for pricing violations.
Wang Lei, a visitor from central China's Henan Province, gave his thumbs-up to a local restaurant in Changsha, capital of Hunan Province, as the eatery kindly reminds its diners to contact the manager if anyone pressures them to submit fake rave reviews.
"The businesses are taking our feedback more and more seriously while we consumers are becoming more and more aware of defending our rights," Wang said.