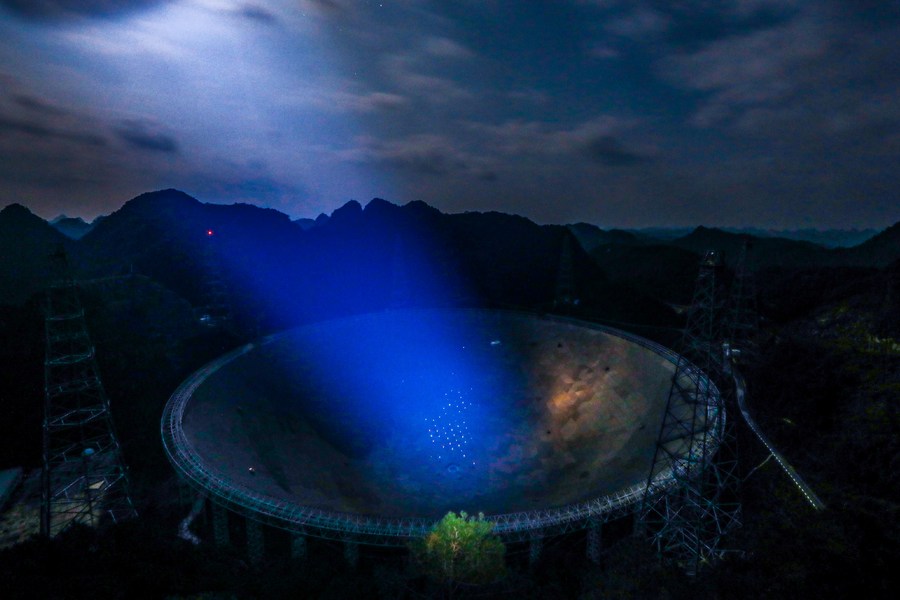 Panoramic photo taken on Jan. 8, 2020 shows China's Five-hundred-meter Aperture Spherical radio Telescope (FAST) under maintenance in southwest China's Guizhou Province. (Xinhua/Ou Dongqu)
BEIJING, March 11 (Xinhua) -- Many regions in China are eyeing the construction of comprehensive science centers as China has placed innovation at the core of its modernization drive, reported Economic Information Daily Thursday.
China has clarified in its draft outline of the 14th Five-Year Plan (2021-2025) to build major sci-tech innovation platforms, and support the construction of regional comprehensive national science centers and sci-tech innovation centers.
As the basic platform for the construction of the national innovation system, the construction of a comprehensive national science center will help gather world-class scientists, make breakthroughs in major scientific problems and bottlenecks in cutting-edge technologies, and significantly improve China's basic research level and original innovation capabilities.
So far, China has approved the construction of four comprehensive national science centers in Zhangjiang High-tech Park of Shanghai, Hefei, capital city of east China's Anhui Province, Huairou District of Beijing, and Shenzhen of south China's Guangdong Province.
Currently, at least eight provinces and cities have recently put forward to build comprehensive national science centers during the 14th Five-Year Plan period, including central China's Hubei Province, southwest China's Sichuan Province, Nanjing City of east China's Jiangsu Province, Jinan City of east China's Shandong Province, Lanzhou City of northwest China's Gansu Province, and Shenyang City of northeast China's Liaoning Province, etc.
Jinan has made it clear in its mid- and long-term plan on the establishment of a comprehensive national science center that it will gather all the essential elements for building such a center by 2025, finish the construction of the center with high standards by 2030, and make the center at the forefront of the country by 2035.
It's noteworthy that China's Ministry of Science and Technology on February 25 issued a guideline on strengthening sci-tech innovation and promoting the development of the western region in the new era to form a new pattern, proposing to support the development of sci-tech innovation centers in the Chengdu-Chongqing economic circle in western China.
According to the guideline, efforts will be made to formulate a special plan for the integrated Chengdu-Chongqing sci-tech innovation development, and support the deployment of major sci-tech infrastructure such as ultra-transient matter scientific experiment device, surface process and ecological environment simulation experiment system in the Yangtze River basin.
Efforts will also be made to cultivate and build the Sichuan-Tibet Railway technological innovation center and other national technological innovation centers, and expedite the construction of the Chengdu National New-Generation Artificial Intelligence Innovation and Development Pilot Zone.
(Edited by Gu Shanshan with Xinhua Silk Road, gushanshan.1987@163.com)