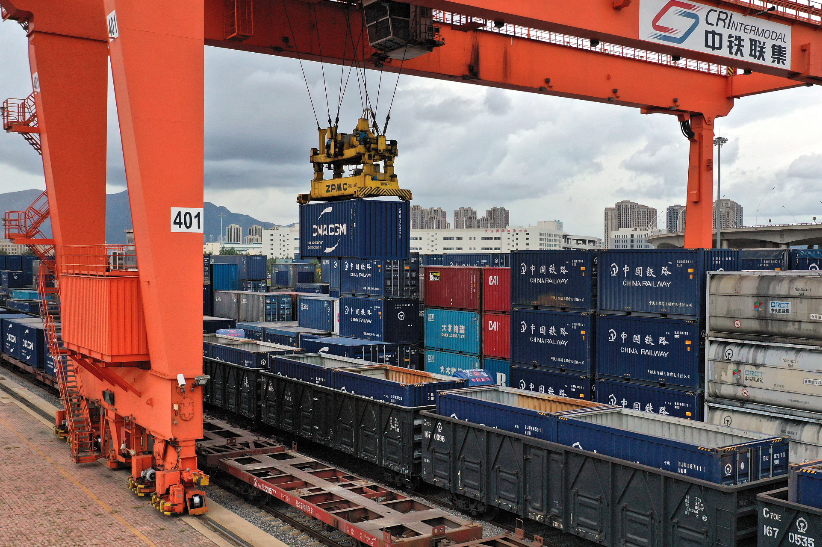 Aerial photo taken on Sept. 24, 2020 shows a freight train being loaded with containers at Dalian port in northeast China's Liaoning Province. Dalian port has been working on developing new shipping routes and growing its throughput as it seeks to further expand its market this year. (Xinhua/Yao Jianfeng)
BEIJING, March 11 (Xinhua) -- Liaoning Port Group, located in northeast China's Dalian city, launched two new direct container routes to Southeast Asia, bringing the number of Southeast Asia-bound routes to 21, according to the group on Thursday.
The move has not only extended the group's route network, but also provided route support for the Belt and Road countries, said the group.
The two shipping routes both depart from Dalian Port and make stopovers at the important ports in Southeast Asia and the Indochina Peninsula along the way.
Specifically, the route to Vietnam is jointly operated by two shipping companies, Wanhai Lines Ltd and Interasia Line (IAL), with a capacity of three 1,800-TEU ships. The other route to Singapore and Malaysia is run by four shipping companies including Regional Container Lines (RCL), Korea Marine Transport Containers (KMTC), and SITC Container Lines, with a capacity of five 2,700-TEU ships. The two shipping routes are operated weekly.
In recent years, the Southeast Asian region represented by Vietnam has developed rapidly, with a significant increase in exports of fruits to China. Dalian has become the main distribution center for imported fruits in north China.
An official of the group said that by continuously expanding the container route network, the group will further play an active role in serving regional economic development. (Edited by Hu Pingchao with Xinhua Silk Road, hupingchao@xinhua.org)