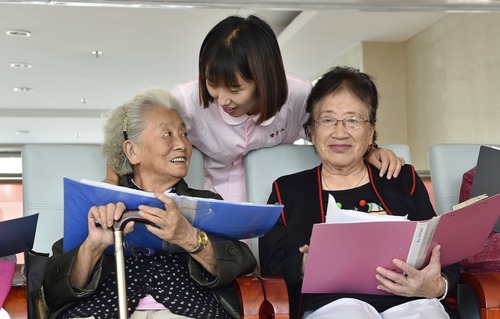 Shanghai to launch long-term care insurance in 2018, expected to benefit 3 million elderly people. (Xinhua/Xu Ruiqing, Zhou Rui, Zuo Wei)
BEIJING, March 2 (Xinhua) -- China's insurance market is expected to maintain stable in 2021, the Xinhua-run cnstock.com cited a report released by the Insurance Association of China on Monday.
The report believes that China's insurance industry will embrace opportunities in 2021 in spite of challenges and pressure.
According to the report, policies have laid a solid foundation for the development of insurance industry. The proposal for the main goals to be reached during the 14th Five-Year Plan period (2021-2025) has put forward specific suggestions on the development of agricultural insurance, multi-layer pension scheme and long-term care insurance.
Meanwhile, China has unveiled its "dual circulation" development pattern, where internal and external markets can reinforce each other, with the domestic market as the mainstay. The new development pattern is bound to boost the development of insurance industry as the huge internal demands will be stimulated.
Moreover, the outbreak of the COVID-19 pandemic has put pressure on the traditional offline business of the insurance industry, and urged it to accelerate digital transformation, expand online channels and improve operating efficiency and ability to serve consumers, which will be conducive to its future development.
In addition, the growth of Chinese people's awareness and the business transformation of insurance industry to become professional and differentiated have also contributed to its development. (Edited by Zhang Yuan with Xinhua Silk Road, zhangyuan11@xinhua.org)