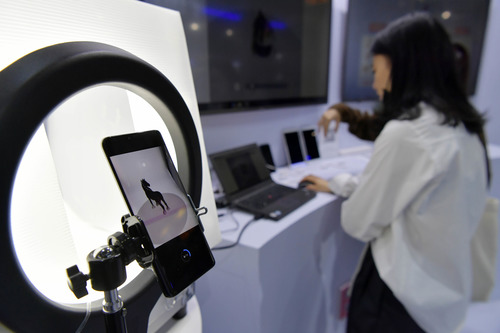 Visitors view an online shopping platform of virtual reality (VR) technology during an exhibition of the 2019 World Conference on VR Industry in Nanchang, capital of east China's Jiangxi Province, Oct. 21, 2019. (Xinhua/Peng Zhaozhi)
BEIJING, March 2 (Xinhua) -- A total of 70,000 5G base stations are expected to be built in east China's Jiangxi Province by 2025 in an effort to promote the development of new infrastructure, according to the local authorities recently.
During 2021-2025, while promoting the construction of information infrastructure such as the Internet of Things (IoT), high-speed intelligent information network and big data center, Jiangxi will also make efforts in the fields of 5G network, Narrow Band Internet of Things (NB-IoT), gigabit optical fiber and data center.
Jiangxi's implementation of IoT will focus on the deployment of intelligent sensing terminals in traditional infrastructure such as industry and agriculture. By 2025, the number of mobile IoT terminals in the province will reach 28 million.
During the same period, Jiangxi will speed up the intelligent upgrading of infrastructure, such as promoting the intelligent application of public transportation and the open road test scenarios for self-driving.
In terms of industrial Internet, Jiangxi vows to speed up the construction of industrial Internet platform system, and is expected to cultivate 50 industrial Internet platforms for subdivided industries and 30 industrial big data centers by 2025.
(Edited by Jiang Feifan with Xinhua Silk Road, 346129473@qq.com)